Last Updated on October 25, 2019 by Galaxy World
Government of the Sindh, Services, General Administration & Coordination Department has issued Notification No. CTC(SGA&CD)27(2)/2010 on 25-10-2019 in connection with Holiday on 28th October 2019 for Hindu Community of the province of Sindh. Detail is as under:
The Governments of Sindh has declare 28th October, 2019 (Monday) as Holiday for HINDU COMMUNITY. The government done so on the occasion of DIWALI. This will be for all offices, Autonomous, Semi-Autonomous Bodies, Corporation and Local Councils under the administrative control of Governments of Sindh.
It is to mention here that Government of Sindh has already announced the pay and allowances in advance for the Hindu Community on the eve of Deewali.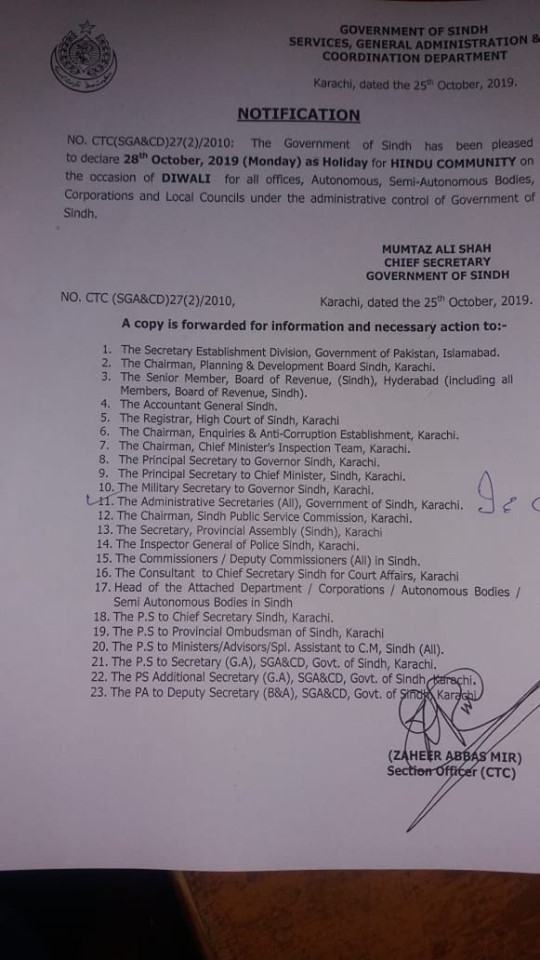 Special thanks to Mr. Rahul Manchandani for sending the copy of the Notification of Holiday for Diwali event on 28-10-2019 for Hindu Community of Sindh.