Government of Sindh, Home Department has issued Notification on 29-03-2020 in connection with Mobile Registration System for Needy People. Detail is as under:
Mobile Registration System for Needy People of Sindh
I am directed to intimate that the Government of Sindh intends to launch a Mobile Registration System for disbursement of Cash to the needy people through "Jazz Cash Transfer" like mechanism during the prevailing COVID-19 situation.
The plan is to register all needy people who intend to avail this facility and then get it verified by the NADRA authorities that only one person from a family gets the facility as there is likelihood that whole family may register separately.
In order to further ensure transparency and efficiency, the Government of Sindh would like to have access to the data of tax payers marinated by Federal Board of Revenue so that the applicants are filtered for financial assistance. Moreover, data from FIA related to these applicants who traveled aboard (except the pilgrims travelling to Saudi Arabia for Umrah and Hajj since even some poor people also go for pilgrimage.
Moreover, State Bank of Pakistan may give access to check applicants' accounts having certain balance limit say less than ten thousand rupees or so in order to facilitate the Government of Sindh for identification and registration of needy people in Sindh.
In view of above, it is requested to kindly direct the concerned authorities i.e. NADRA, FIA, FBR and State Bank of Pakistan under your respective Ministry to give concurrence so that this exercise may be initiated as soon as possible with NADRA authorities.
Your cooperation in this regard shall highly be appreciated.
Special thanks to Mr. Muhammad Bux Saleem Khaskheli for sending the copy of the Notification of COVID-19 – Registration System for Needy People for the province of Sindh.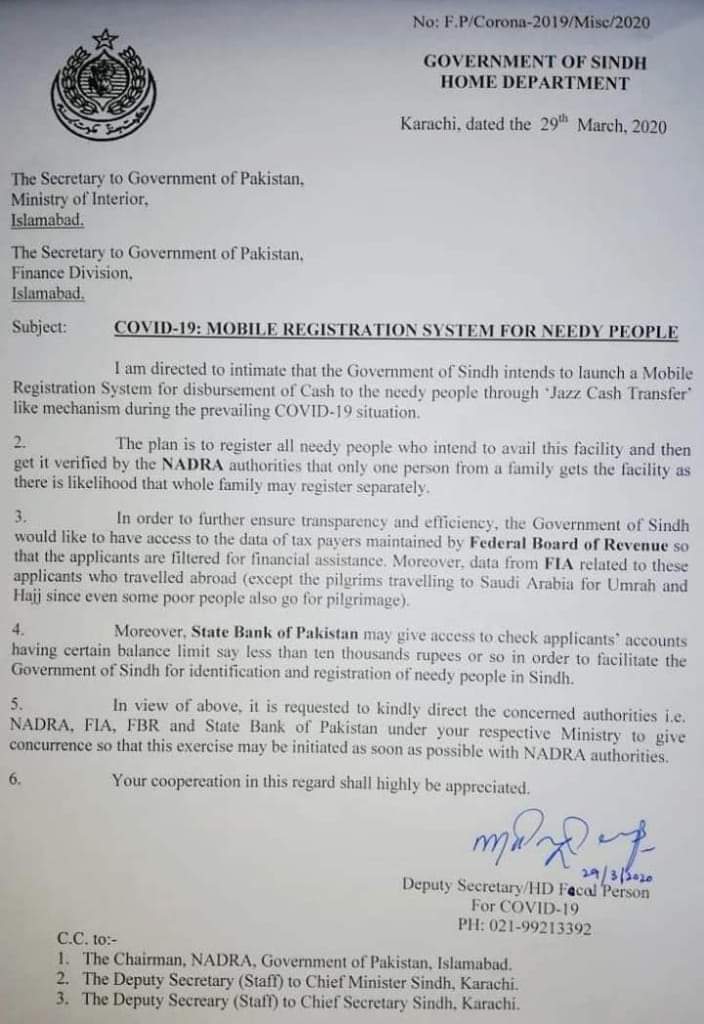 You may also like: Distribution of Ration Bags Among Needy Ones