Last Updated on April 2, 2020 by Galaxy World
Government of Sindh, Home Department has issued Notification on 02-04-2020 in connection with Necessary Directions to be adopted by General Public, Business, etc for the province of Sindh.
Necessary Directions to be adopted by General Public, Business Sindh
Whereas the Corona Virus spread and increases in COVID-19 cases have been seen worldwide causing devastating consequences and illness and deaths resulting from it. That social distancing measures and such precautionary measures are department seeing to decrease the COVID-19 cases and resulting deaths. That Government of Sindh issued orders from time to time earlier to avoid unnecessary and avoidable movement of Public In order to contain the spread of disease.
That after careful considerations of the situation and the spread of disease and further deliberations in the National Coordination Committee the Government is satisfied that such restrictive measures adopted are necessary to continue for some time to contain the spread of disses and break the chain of the spread of the virus.
Now, therefore, is the exercise of powers under section 3(1) of Sindh Epidemic Act 2014 (the Sindh Act VIII of 2015) and in supersession of all previous orders hereby issues following directions, regulations and necessary measures to be observed and adopted by all the concerned businesses, the general public, etc.
Complete Closure/Ban
All educational institutions i.e. Schools, colleges, Medical colleges, technical and Vocational Institutes, Universities (both Public and Private), Coaching centers, madaris (already closed till 31st May 2020).
Shopping Malls, Cinema Halls, Marriage Halls, Banquet Halls, Marques, Lawns, Clubs, Hotels, Halls, Auditoriums, Farm Houses, Beaches, Electronic Markets, Showrooms, Boutiques, Beauty Parlors, Luxury item & Outlets, etc.
Entertainment areas where Public gathers including but not limited to Farm Houses etc, Beaches like Sea View, Hawke's Bay, Sandspit, Paradise Point, etc.
Religious & social congregations, ceremonies, functions, gatherings of all kinds.
Gathering on Shrines, Public Visitors Meeting prisoners.
Intercity and inter-Provincial Public Passenger Transport (Good Transport of essential/permissible items to continue).
Restriction on Congregational Prayers
Only 3 to 5 Persons designed for Mosque (like Pesh, Imam, Moazzin, Care-Taker) will offer Namaz by Jammat including Juma prayer. And that the General Public will offer their Prayers / Namaz at their respective homes as per directions and guidance from the Religious Scholars (As per consideration in order No. SO(J-1)/HD/8-1(04)/2020-Corona dated 26.03.2020). Except for last rites like funeral, burial, etc. while adopting social distance and standing by close family members only and after informing local SHO of area.
These restrictions on such religious gatherings apply in a similar manner to religious places of other religions.
Other Contents of the Instructions / Guidelines
This Notification also covers the following more aspects:
Partial Ban / Opening of Shops etc from 8:00 am to 5:00 pm – all activities/movements
Ban / Restriction on Movement of People from 5:00 pm to 8:00 am
Restrictions on movement of persons by transport
Essential Items / Services to operate
Transport of Goods
Directions for owner / employers / manager
Special directions on suspects / positive cases of COVID-19
Delivered By: Mr. Muhammad Bux Saleem Khaskheli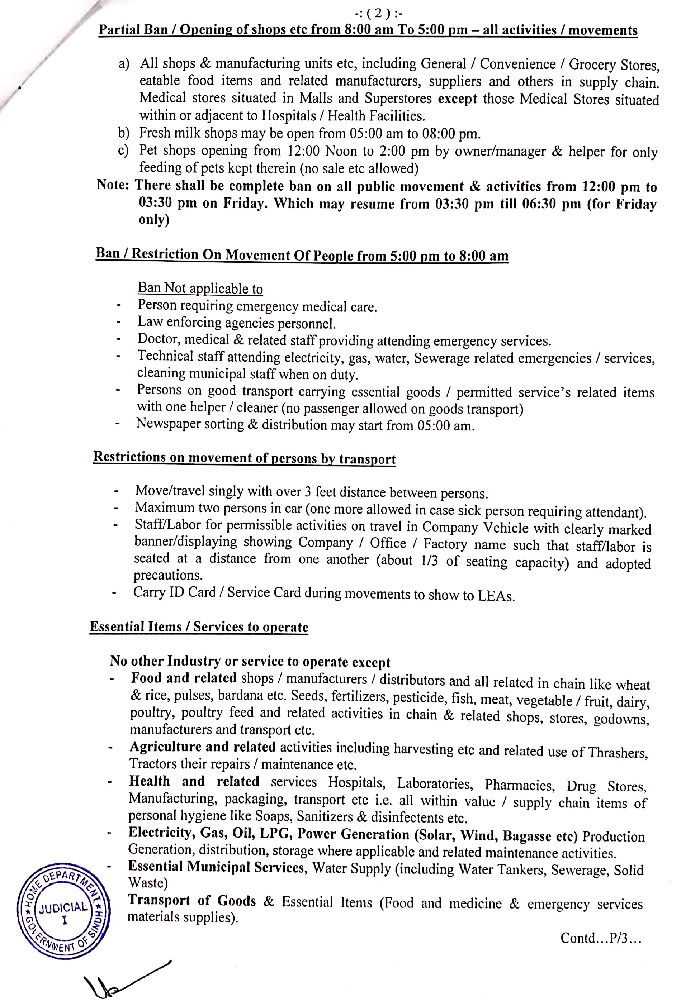 You may also like: ban on movement and gathering of people