Last Updated on May 19, 2020 by Galaxy World
Government of Sindh, Services, General Administration & Coordination Department has issued Notification No. CTC (SG&CD) 3 (27) /2009 dated 19-05-2020 in connection with Eid-ul-Fitr 2020 Holidays in Sindh Province. The Detail of this Holidays Notification is as under:
Eid-ul-Fitr 2020 Holidays in Sindh Province
The Government of Sindh has been pleased to declare 22nd May 2020 to 27th May 2020 (Friday to Wednesday) as Public holiday. This Holidays Govt announces throughout the province on the occasion of Eid-ul-Fitr 2020.  These holidays are for all the following office under the administrative control of Sindh Govt:
Government offices
Autonomous
Semi-Autonomous Bodies
Corporations
Local Councils
In these offices, essential services and departments and offices engaged in the prevention and control of Corona Virus emergency are not included.
Special thanks to the following who sent the copies of this Notification for publication on this website. :
Mr. Maqsood Ali
Mr. Khati Aqib Javed
And Mr. Muhammad Bux Saleem Khaskheli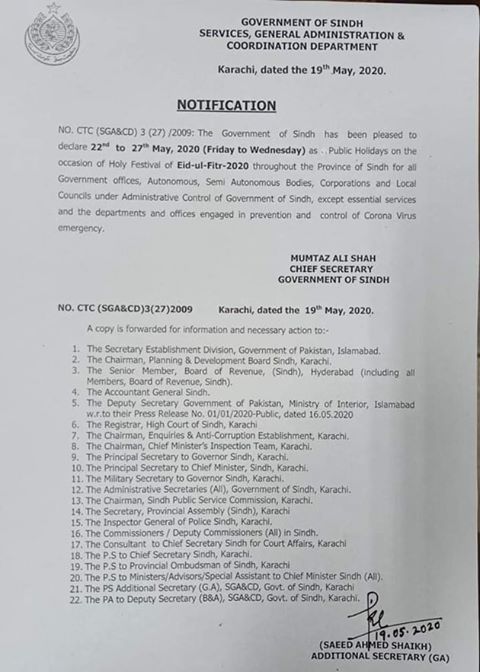 It is to inform the employees that the Federal Government of Pakistan and  Punjab Government have already issued the Notification of Eid Holidays. These Governments announced too holidays for 6 days starting from Friday to Wednesday.  I hope the Government of Balochistan and Khyber Pakhtunkhwa will also issue the same Notification very soon.
You may also like: Eid-ul-Fitr Holidays 2020 Punjab