Last Updated on August 10, 2021 by Galaxy World
Government of Pakistan, Cabinet Secretariat Establishment Division has issued Notification on 19-08-2020 in connection with Amendment in Civil Servants Appointment, Promotion & Transfer Rules 1973 (Quota for various provinces and AJK and GB). The details are as under:
Amendment in Civil Servants Appointment, Promotion & Transfer Rules 1973 (Quota)
In exercise of the powers concerned by sub-action (1) of section 25 of the Civil Servants Act, 1973 (1973) read with Notification No. S.R.O.120(1)/98, dated the 27th Feb 1998, the Prime Minister is pleased to direct that the following amendments shall be in the Civil Servants(Appointment, Promotion & Transfer) Rules, 1973, namely:-
In the aforesaid Rules in Rule 14, the words "Prescribed by the Federal Government from time to time" will be replaced by the words "As prescribed below"
Revised Jobs Quota System 2020
Merit                7.5%
Punjab (Including Federal Area of Islamabad)      50%
Sindh                                                                       19%
The share of Sindh will be further
Sub-allocated in the following ratio:
Urban areas namely Karachi, Hyderabad, and Sukkur.    40 % of 19 % or 7.6%
Rural areas i.e. rest of Sindh excluding Karachi     60% of 19% or 11.4%
Khyber Pakhtunkhwa            11.5%
Balochistan                              3%
Newly merged Districts of Khyber Pakhtunkhwa (Ex-FATA)   3%
(This share shall not be merged into Khyber Pakhtunkhwa and be observed independently for next 10 years in conjunction with the yen-years Development Plan devised to bring the Ex-FATA at par with the Khyber Pakhtunkhwa Socially and economically)
Gilgit-Baltistan    1%
Azad Kashmir      2%
Special thanks to Mr. Muhammad Kaleem for sending a copy of the Notification of Revised Jobs Quota System by Federal Govt. This quota is for all the provinces and GB and Azad Jammu Kashmir. Is this good or otherwise, your comments will clear the situation. So please comment below to share your opinion.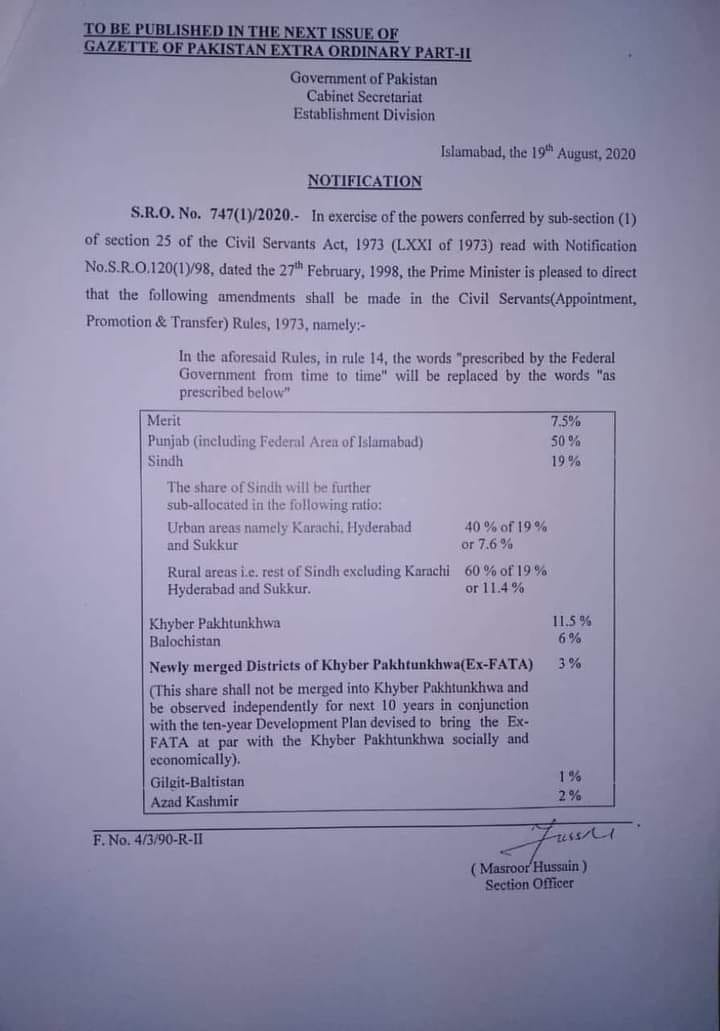 You may also like: Nursing Assistant Program ATH 2020