Federal Board of Intermediate & Secondary Education, Islamabad has changed the date of Special Exam 2020 and hence issued Notice for FBISE Amendment in Commencement Date of Special Annual Exam 2020 FBISE.
According to the Federal Board Islamabad, the following is the re-schedule of Special Exam 2020 for the FBISE:
FBISE Amendment in Commencement Date of Special Annual Exam 2020
| | | |
| --- | --- | --- |
| Sr. No | Previous Date of Commencement of Special Exam 2020 | Revised Date of Start of Special Examination 2020 |
| 1 | 20th October 2020 (Tuesday) | 15th October 2020 (Thursday) |
Now as per the new schedule of Federal Board Special Annual Exam 2020, the students have to prepare themselves 5 days before as earlier date.  This will decrease the preparation of papers time for some students. But for many students who have already prepared themselves for the Special Exam are happy to close their papers earlier.  That will make ease for the students to take admission in Universities/ BS Classes. If the exams are late it will make the loss for many students, especially regarding admission.
It is notified for information of all concerned that the HSSC Special Annual Examination 2020 has been rescheduled and will commence with effect from 15th October 2020 instead of 20th October 2020.
There are chances that these will be the final date of the coming examination and the board will not do any change in this revised schedule of papers unless very necessary.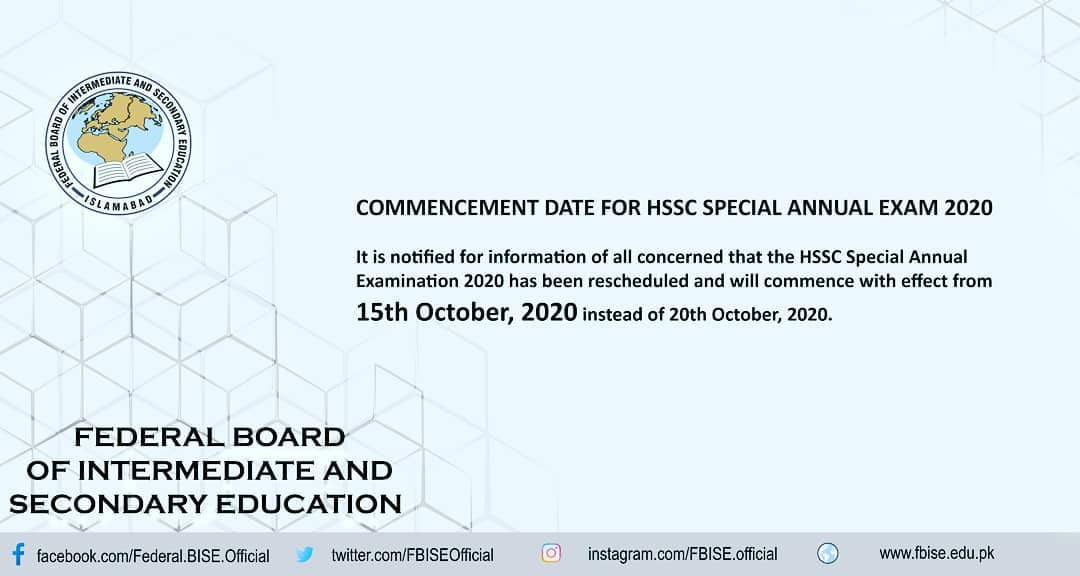 You may also like: Opening of Educational Institutions wef 15th September 2020