Last Updated on August 10, 2021 by Galaxy World
BISE Lahore SSC Annual Examination 2020 Result the Board has decided to announce on 19-09-2020. According to the Lahore Education Board, they said that the matric result will declare on 19th September 2020. The details are as under:
BISE Lahore SSC Annual Examination 2020 Result
Date of Announcement of Matric Result Lahore Board = 19th Sep 2020
Day: Saturday
Timings: 1700 HRS (5:00 pm)
As soon as the BISE Lahore announces the result, I shall share the same on my website. So the students, teachers, and parents should keep tuned with me.
The board was to announce the results during the previous weeks but due to some uncertain reasons, they delayed it. The students were much worried and now the board has finally decided to remove the worriedness of the students.  The impatience and uncertainty of the delay of result now gone and students now should read on the above date for the final result of the annual examination 2020. That was also delayed due to COVID-19 spread in the country.
Now the heartbeats of the students and parents have increased and they don't want that this date they again change. They have thanked Allah for these final moments. They have prayed that all students clear these exams. The result of Intermediate the board will also soon decide to declare.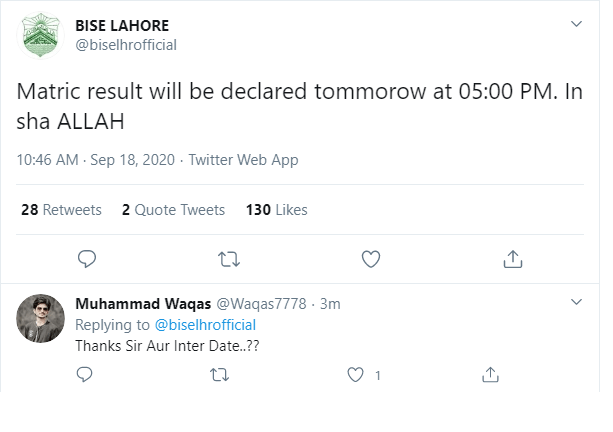 Many students still not believe that this announcement is true or not. This is because the Board decided so to declare the Matric result at just a day before. No one was believing so as there was news that the Lahore Board and other Boards of Punjab will announce the SSC Result 2020 at the start of Oct. But now this will happen on 19th September 2020. In Sha Allah. Students are anxious about the result that will the board rant grading or marks. That will all clear on the date of the result.