Last Updated on August 6, 2021 by Galaxy World
Government of the Punjab, Higher Education Department has issued a Notification on 12-02-2021 in connection with No Govt Employee will engage in Any Trade or Other employment. The details are as under:
No Govt Employee will Engage in Any Trade
I am directed to inform you that the Competent Authority has taken serious reservations regarding taking classes in Private Universities / Colleges / Institutions by the teaching staff without prior permission / NOC from the Competent Authority.
In this regard, the Govt. of Punjab, as well as the Higher Education Department, stipulated the following rules which to be observed in letter spirit:
| | |
| --- | --- |
| Rule NO. 16 (1) of Punjab Civil Servants (conduct) Rules, 1966. | "No Government Servants shall except with the previous sanction of Government engaged in any trade or undertake any employment of work other than his official duties." |
| Notification No. SO(A-I)SA-73/99 dated 10.08.1999 issued by the Higher Education Department. | There shall be a completed ban on teaching a Govt. An employee in private institutions during the officials' working hours. |
I am further directed to request you that in case of any violation of the mentioned above rules/standing instructions have been found/observed. The same may be forwarded to this office within 07-days and in case, no case is reported then a certificate may be furnished accordingly.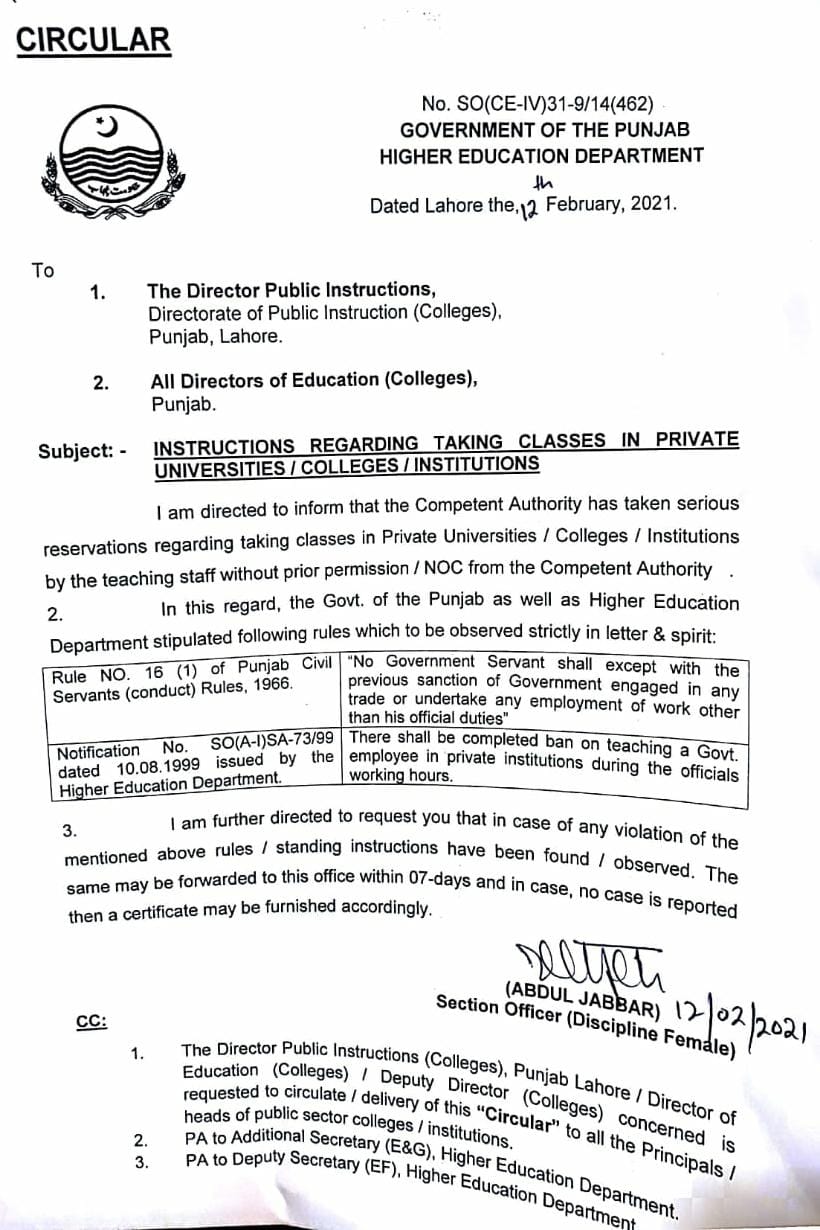 Many visitors have already asked me the same question. The above letter is the clear answer to all those questions. A Government employee cannot adopt any job. He/She cannot start any business. The employee can do so only after getting prior permission. The Government has already imposed a ban on teaching in academies during working hours. If any civil servant found violating the orders, Government can take action against him/her.
The reason for the same is that there are reports that a few Government employees engage themselves in business. They don't care about their duties and always keep in mind their business or trade. This is not loyal to the duty.