Last Updated on October 31, 2021 by Galaxy World
Government of the Punjab, School Education Department has issued a Notification on 15-09-2021 in connection with Opening All Punjab Schools wef 16th Sep 2021. The details are as under:
Notification of Opening All Punjab Schools wef 16th Sep 2021
The Government of Punjab School Education Department decided so in pursuance of the decisions of the National Command & Operation Center (NCOC) of the dated 14th Sep 2021.
All public & Private Educational Institutions/schools in Punjab are hereby re-opened with effect from 16-9-2021 subject to the condition that classes will be held on a staggered approach having 50% attendance each day.
        All concerned authorities shall ensure the observance and compliance of COVID-19 SOPs in letter and spirit.
Tweet of Mr. Murad Raas Regarding Re-Opening Educational Institutions
ANNOUNCEMENT: All Public and Private Schools of Punjab are to open on Thursday 16th September 2021 with a staggered approach. Only 50% of students will be allowed in Schools on any given day. Please follow COVID SOPs issued by the government. Welcome back.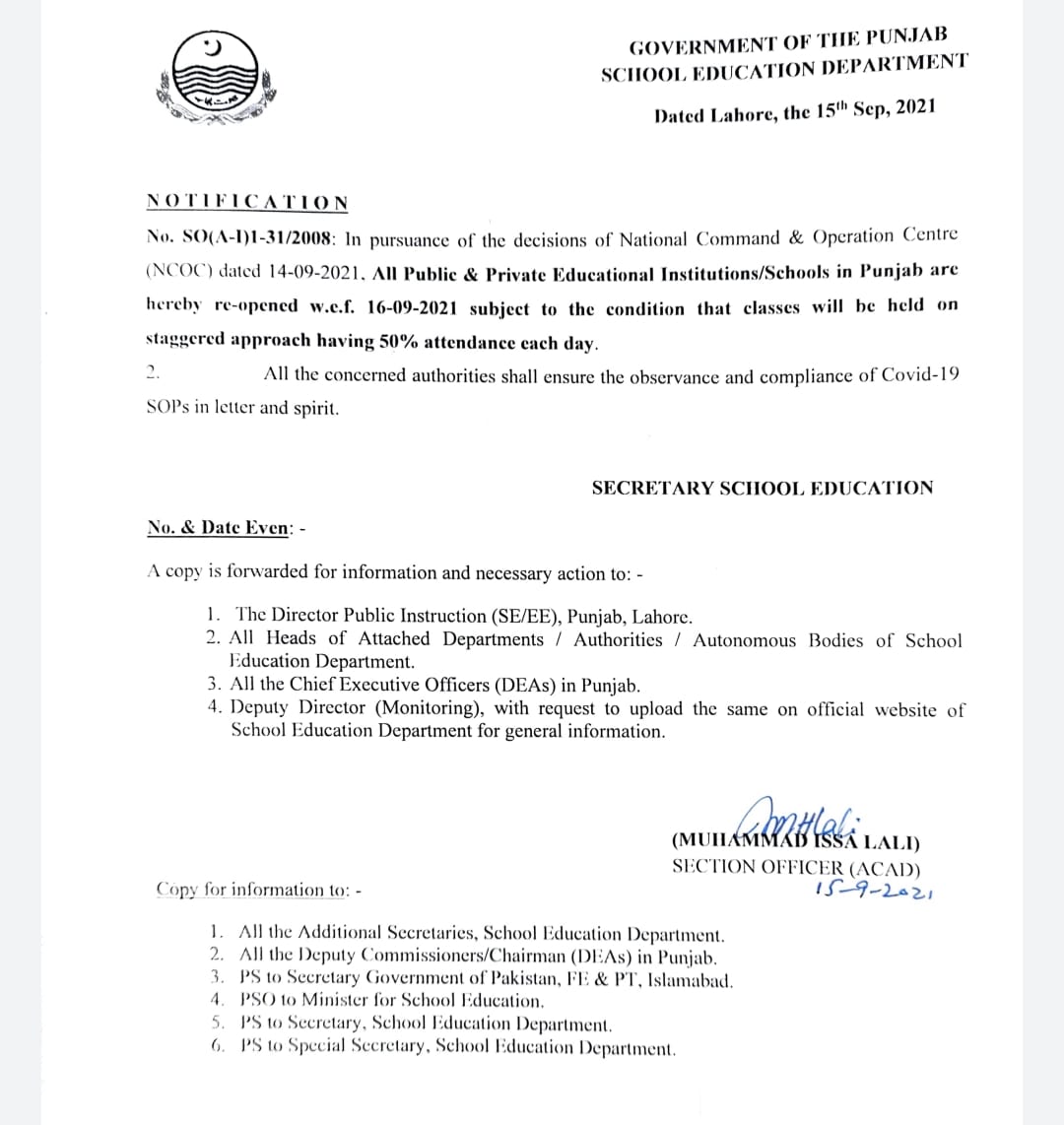 Education Session & COVID-19
Before this Khyber Pakhtunkhwa Government, Higher Education Department also issued a Notification for opening all colleges and universities. KPK Government decided to Re-Opening All Colleges / Universities wef 16-09-2021 in the province. Now the situation of the coronavirus is better in the country and the rate of COVID-19 is under control. It is a good decision of the Government. The students were suffering a lot. The new education session started and once again they closed the schools. Now with effect from 16th Sep, the educational institutions will again open. The educations session period, the Government extended to June/July. The next session will start wef Aug 2020. The government has also decided to give annual exams two times a year.
Re-Opening of Colleges/ Universities by HED Punjab
The government of the Punjab Higher Education Department has also issued the Notification on 15-09-2021 regarding re-opening all private/government universities in all cities of the province of Punjab. Universities will also follow complete SOPs and staggered manner of attendance.