Ministry of Finance Pakistan has launched an Easy and Interest Free Loan under Kamyab Pakistan.  These loans are for 37 lac (3.7 million) families having limited resources. The total amount allocated for these interest-free loan schemes is 1400 Arab.
Easy and Interest Free Loan under Kamyab Pakistan
The government of Pakistan launched this scheme under the dream of the prime minister of Pakistan. The purpose of the same is to establish a welfare state on the model of the STATE OF MADINA. In this way, Pakistan will get economic progress and happiness among the people of Pakistan. The main fields of this program are as under:
Main Fields of Programme
Kamyab Kissan (Successful Farmer)
Kamyab Karobar (Successful Business)
Kamyab Hunarmand (Successful Artisan)
Sehatmand Pakistan (Healthy Pakistan) Health Insurance through Sehat Insaaf Card for the borrowers
Procedure for Action Plan of Kamyab Pakistan Program
Just SMS your Computerized National Identity Card (CNIC) number at 5771. This is the registration process. The concerned department will take action accordingly.
Steps of the program:
Verification of the Applicants from Ehsaas Program
Identification and Verification of Family Number from NADRA
They will upload more details at Kamyab Pakistan Portal
Initiation of First Step of the Program
In the first step of this program the underdeveloped districts of the following provinces/areas will be included:
Gilgit-Baltistan
Azad Kashmir
Khyber Pakhtunkhwa
Balochistan
Punjab
Sindh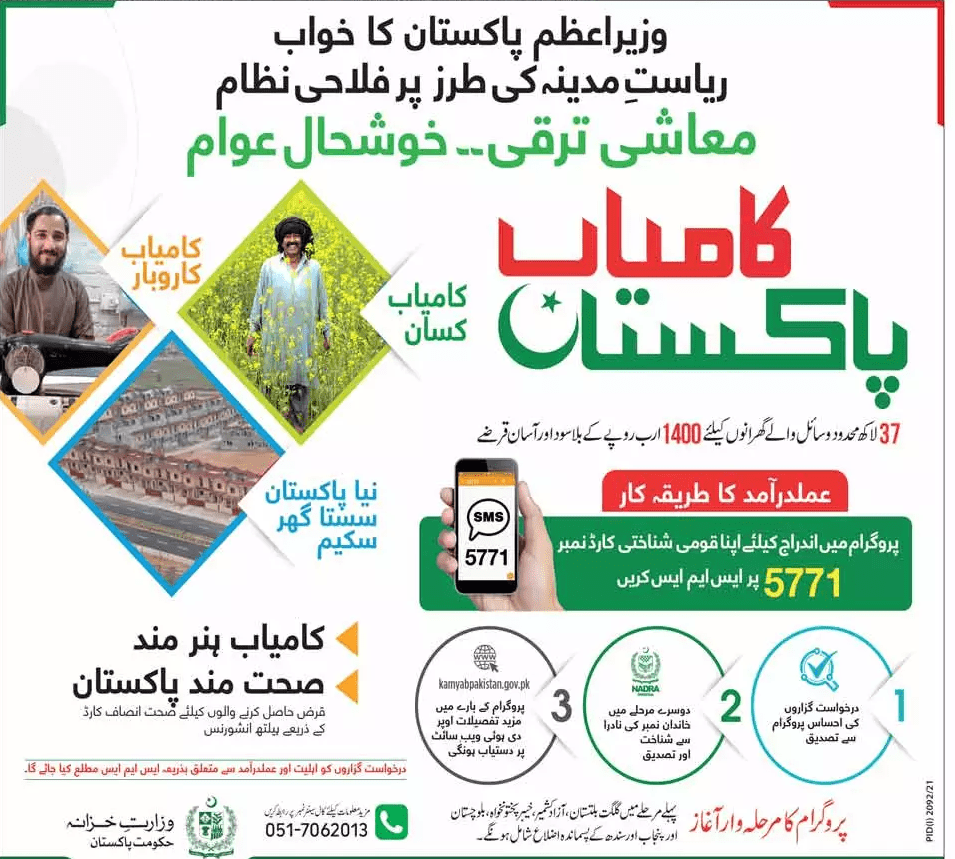 You may also like: Advance Salary Loan Calculator of NBP