Last Updated on April 3, 2020 by Galaxy World
I am sharing the detail of Online Registration Naya Pakistan Housing Program. The registration process has been initiated with effect from 15th July 2019 and will be continued for the next three months.
You can register yourself for the Naya Pakistan Housing Scheme on a payment of Rs. 250/- only. You can adopt any one of the following procedures for the registration:
Visit your nearest e-Sahulat Franchise for the amount payment and registration purpose
Pay your fee by visiting nearest e-Sahulat Franchise or nearest Easypaisa Franchise or Jazzcash Franchise. Then fill the registration form online.
If you not find nearest you the e-Sahulat Franchise then online registration by paying at Jazzcash or Easypaisa is the easiest way to register online.
Instructions Regarding Online Registration Naya Pakistan Housing Program
Some features / instructions are as under:
You would have not to go to NADRA office and just easily register yourself only for the Housing Scheme.
Residents of all the districts of Pakistan can apply for the Naya Pakistan Housing Scheme.
Those who have already applied for the same are not needed to apply again.
The applicant must have the computerized national identity card.
Only one family member can registration.
The family who has not already have the house will be preferred.
Extension in Date to Apply for Nya Pakistan Housing Scheme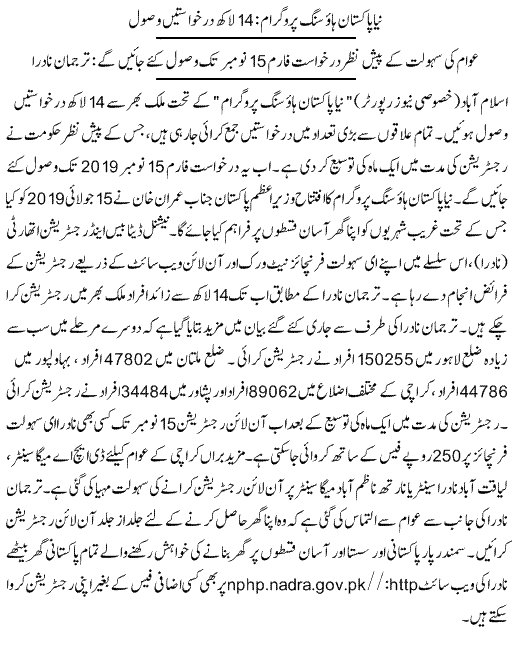 You can register and get help from the below given link:
Register Online for Naya Pakistan Housing Program