Punjab Examination Commission Wahdat Colony Lahore has issued a Notification on 10-3-2022 in connection with the Schedule of Punjab Examination Commission (PEC) Exams 2022 for Grades 4, 5 & 8 and training workshop.
Schedule of Punjab Examination Commission (PEC) Exams 2022 (4th, 5th & 8th Grades)
It is informed that Punjab Examination Commission (PEC) is going to conduct a Large Scale Assessment  (LSA-2022) in the subjects of Urdu, English, Mathematics, and Science for grades 4,5 and 8, tentatively schedule to be conducted in all 36 districts of Punjab from 18th – 22nd April 2022.
Traning Schedule for PEC Examinations 2022
In this regard, Test Administrators Training is a vital activity on which the validity and reliability of Large Scale Assessment are based. The test administrators training workshop is scheduled to be hold from 4th-16 April 2022 across Punjab.
In view of the above, it is requested to nominate at least ESTs/SSTs or above from your district to perform the duties as Test Administrators for LSA-2022. The nomination should be based on the following criteria.
Criteria for Nominees
Nominate on Test Administrator (TA) against each School and grade.
Nominate TA should be willing and efficient.
For girl's schools, female TAs should be nominated, whereas, for boys' schools, male TAs should be nominated.
The nomination should be from the schools that fall within a radius of 16km of the sampled school.
Nominated TA should NOT be deputed in his /her own school.
The list of sampled schools for LSA Grades 4,5, & 8 have been shared via email along with a web link, district-wise usernames, and passwords. Please, use this web link for the nomination of TAs and provide requisite details of Teachers / TAs by 21st March 2022.
You may also like Recruitment Policy 2022 Punjab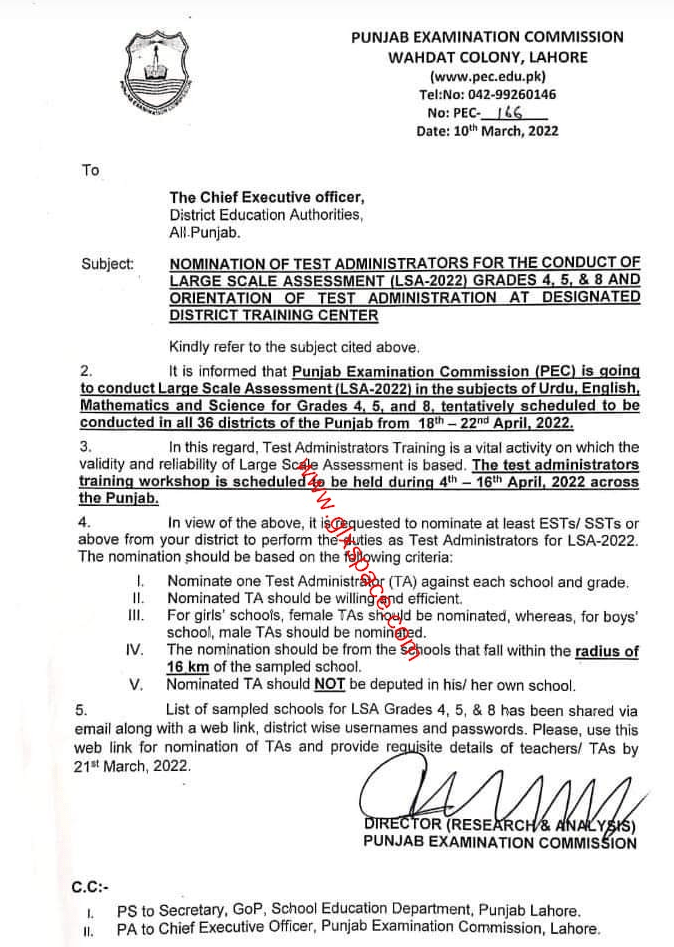 PS to Secretary, GoP SED Punjab
PA to CEO Punjab Examination Commission Lahore