I am sharing here the latest Updates of Educators Jobs in Punjab December 2022. The Government of Punjab has advertised in the newspaper about the hiring of a testing agency for the recruitment of educators in Punjab Government Schools. Before this Chief Minister Punjab approved the recruitment of 5000 Educators in Punjab Schools.
Updates of Educators Jobs in Punjab December 2022
The advertisement for the hiring of a Testing Agency For Educators, the Govt of Punjab announced in newspapers. The government of Punjab is committed to ensuring maximum enrolment  & retention of all school-age children and to providing them with quality Education.  In this concern, School Education Department (SED) intends to recruit 5,000 Educators,  on a need-basis in schools with acute shortages of, in particular, candidates having at least (16 years) Education in the relevant subjects. Punjab Govt decided that prior to submission of applications by eligible candidates for the vacant posts, of School Teachers (Educators), the interested candidates shall have to appear for a test that a qualified Testing Agency will conduct. The SED will hire this testing agency.
School Education Department and Testing Agencies
School Education Department has expressed interest in hiring the services of a well-reputed Firm/Testing Agency. The agency must have registration in Punjab/Pakistan by a relevant authority to facilitate Examination services at the District Level/ locations.
Interested Firms/Testing Agencies may obtain the Request for Proposal  (REP)  containing Terms of Reference  (TOR) source of services and evaluation criteria/documents from the office of Additional Secretary  (B&P/General), School  Education Department,  Old P&D Building Civil Secretariat  Punjab, Lahore During Working hours from Monday  – Friday by giving an application on the letterhead of Company/ Firm or Download from PPRA website free of cost. You can download the relevant documents from the web portal of the School Education Department.
Documents for Bidding
Single Stage Two Envelope Procedure & Quality and Cost  Base Selection Method (QCBS) will be followed as per PPRA rules. Complete documentation must reach by hand to the office of the Additional Secretary  (B&P/General), School Education Department, Old P&D Building, Civil, and the  Name of EOI notice.
Last date for submission  of EOI documents Date: 12th December  2022 till time 11:00 AM
EOI Opening  Date &Time:  16th December 2022 till time 11:30 AM.
Note: Department will not accept Incomplete and late EOIs.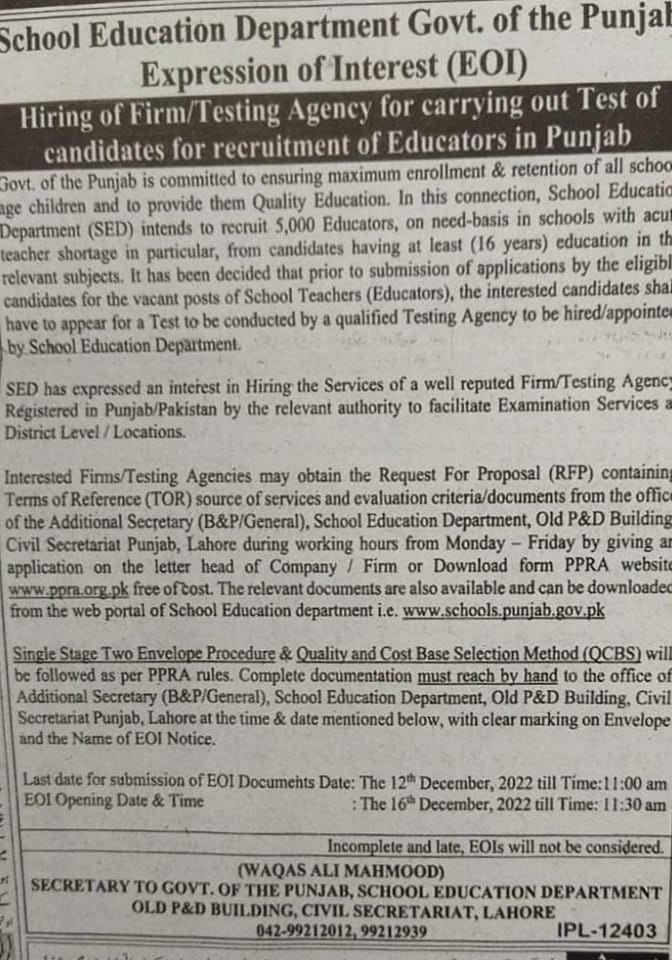 Publication of Expression of Interest (EOI)
School Education Department, Govt of Punjab issued a letter on 21-11-2022 in connection with the Publication of Expression of Interest (EOI). The details are as under:
I direct to enclose herewith a draft regarding the advertisement of Expression of interest (EOI) for hiring a firm/testing agency. I also state that consequent upon the approval of the Chief Minister, the Punjab, School Education Department intends to recruit 5000 Educators across Punjab on a need basis.
2. The undersigned, therefore, requests that the advertisement for publication of an Expression of Interest (EOI) they should send for publication to two leading National Daily Newspapers (one in Urdu and another one in an English Newspaper), The newspapers should appear this Advertisement appear before the 25th of November, 2022.