The Government of Pakistan has started DigiSkills Free Free-Lancing Course 2023 Registration Batch -05. All the courses are online and the willing candidates may apply for these courses will before time. After getting the training they will be eligible to earn online at home or in coworking spaces for freelancers. The details are as under:
Online DigiSkills Free Free-Lancing Course 2023 Registration Batch -05
Digi Skills Provides the youngsters to freelance their way to success.  It provides completely free training to all candidates. They will not pay any registration fee or other training fee. They will get registered free of cost. The trained and experienced teachers provide free training in specialized courses.
Digi Skills Training/Online Skilled Base Course
Digi Skills offers short courses of a minimum of 03- Months under the supervision of the Virtual University of Pakistan. This Program already provides training to thousands of students. Free Short courses help individuals to run their small business of business setups.
Individuals will further provide online services also on the best and great online platforms. Like Fiver, Amazon, Linked Inn, etc.
Total Available Seats
Digi Skills is giving admission to almost 2,5,000 students. Seats are available on a first come first Get rule.
Up- to  Date Offered Courses
Digi Skills Pakistan is providing the best training in the following market Competitive courses:
Auto Cad
Affiliate Marketing
Virtual Assistant
Video Editing/Animation
Graphic Designing
Free Lancing
Communication Skills
E-Commerce Courses
Digital Literacy
Digital Marketing
Creative Writing
Quick Books
WordPress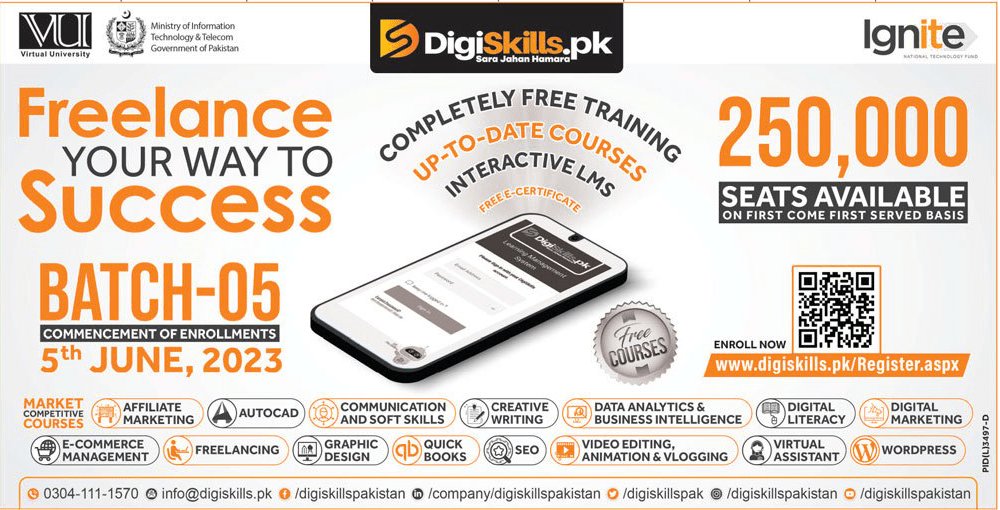 Training Sessions/Home Assignments
All Experts provide weekly online lectures on interactive LMS. After registration, all trainees will receive lectures o their specified course on LMS. All Master Trainers have well experience in their specialized Course/Subject. Master trainers Male/Female have good command to train and educate the trainees. They provide guidance and Communicate through frequently asked questions About lectures and topics.
After listening to lectures, students will make prescribed assignments and submit them to their trainer.
Who can Apply
All Pakistani Nationals male/ female /transgender/disabled/minorities members can avail of this opportunity.
Method of Enrollment/Registration
Willing candidates can enroll Successfully via the web Portal www.digiskills.pk.
Registration Date
Candidates can Register till 5th June 2023.