Last Updated on July 26, 2014 by ShumailaKamal
Now you can do Pension & Commute Calculation with MS Excel Sheet easily in just few seconds. The main feature of this formula is that it includes all the increases of pension during the year 2010, 2011, 2012 and 2013 as well as the Medical Allowance. You have to just enter your basic pay, total length of service and the age rate that is given there in the table too. I will illustrate all about Calculation of Pension & Commute in the given four simple steps:
Step One: Basic Pay
Enter Your Basic Pay that you last drawn (Also add Senior Post Allowance, Personal Pay, and Usual Increment (If any) Usual Increment is allowed if you retired on or after 1st June.
Step Two: Calculate Your Total Length of Service
If the service is 6 months or more than a full year then one year will be added in it (Don't Enter more than 30 if the service exceeds 30 years). For example if your service is 27 years, 6 months and 2 days then your service will be counted as 28 years.
Step Three: Age Rate
See the Table for Age Rate (If the age is even a single day more than a full year then the next year will be taken for age rate.
Step Four: Ardali Allowance
Enter the Ardali Allowance (if any) for the employees of BPS-20 and above. This is all that you would have to do. Just see, your pension and commute have been calculated automatically. (This post has been delivered by Mr. Saeed Ahmad).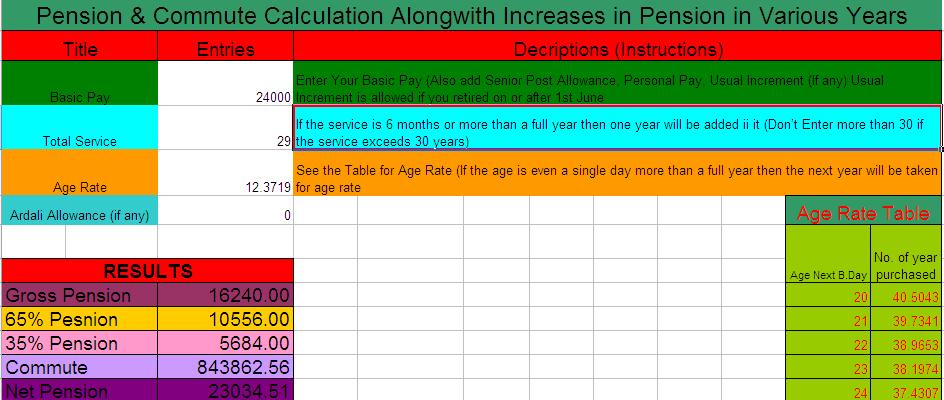 Calculation on and after to 01-07-2014: