Government of the Sindh, Education & Literacy Department has issued orders No. SO (B&F)E&L/Re-desig-posts/2014-15(district)/2014 dated 23rd July 2014 in connection with Sindh Education Department Management cadre.
According to this order, in pursuance of Finance Department's advice bearing No. FD(SR-IV)9/2014 dated 26th June and with the approval of the competent authority i.e Chief Minister Sindh regarding Education Management Cadre, Finance Department agrees to allow up-gradation, re-designation, bifurcation,  creation and shifting of various posts from BPS-14, BPS-15, BPS-16, BPS-17, BPS-18, BPS-19 and BPS-20 for implementation of the Education Management Cadre i.e School Management Service, School Executive Service, School Finance Service and other category teachers under the DLI of SERP-II project of World Bank to improve the standard of education in the province of Sindh, with immediate effect to fulfillment of all codal formalities. The categories are as under:
School Executive Service (SES) at Divisional Level
School Executive Service (SES) at District Level
School Management Service (SMS) at District Level
School Finance Service (SFS) at Divisional Level
Other Category Teachers
Special Thanks to Mr. Kamran Ali for sending the copy of the Notification of Sindh Education Department Management Cadre.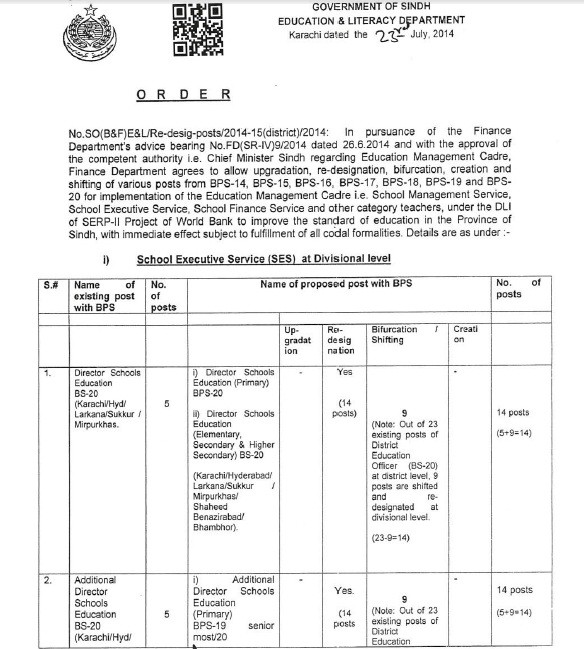 You can download the full copy of the Notification from the link below: