Last Updated on August 31, 2017 by ShumailaKamal
The Islamabad High Court/Supreme Court of Pakistan has issued its judgment on 25-03-2015 in connection with payment of salaries & Regularization of Employees. The summary of the same is as under:
Contempt petition No.369/14 in WP No. 2058/13 against Secretary Health, Ayub Shaikh heard yesterday and Deputy Secretary Health appeared on 25-03-2015 in case Titled Uzair Razzaq VS Secretary National Health Services. Justice Noor-ul-Haq showed anger and directed Secretary Health to release salary of 17 petitioners which had been withheld since last 2 years. Adjourned to 31-03 with a direction to release salaries of petitioners or Secretary Health appear in person.
On 31-03-2015  hearing in Islamabad High Court in pursuance of IHC orders dated 25.03.2015 Ministry Health submitted positive report and took a week more time from IHC for payment of cash to petitioners as ministry committed that they have sent pay bill to AGPR for payment of long standing salary of 27,months  furthermore it was also ordered by the honourable judge to Ministry of National Health Services Regulations and Coordination Secretary to extend the benefit if judgment to all other remaining employees in the said case. The Admin attended the court on behalf of the respondents.
With best regards
> > Petitioners Nisar Anjum Shakir > > 0336 6455301.
> >Uzair Razzaq > 03068668669, [email protected]
> > Solicitor for the petitioner Raja Saif ur rehman, Islamabad, MAK Legal services LLM, U.K 0313 2838383 (for further details) visit:
http://epaper.tribune.com.pk/DisplayDetails.aspx?ENI_ID=11201003260253&EN_ID=11201003260085&EMID=11201003260043
http://tribune.com.pk/story/862130/after-much-ado-health-ministry-pays-salaries-of-17-employees/
http://tribune.com.pk/story/575741/non-regularised-employees-protest-at-over-unpaid-salaries/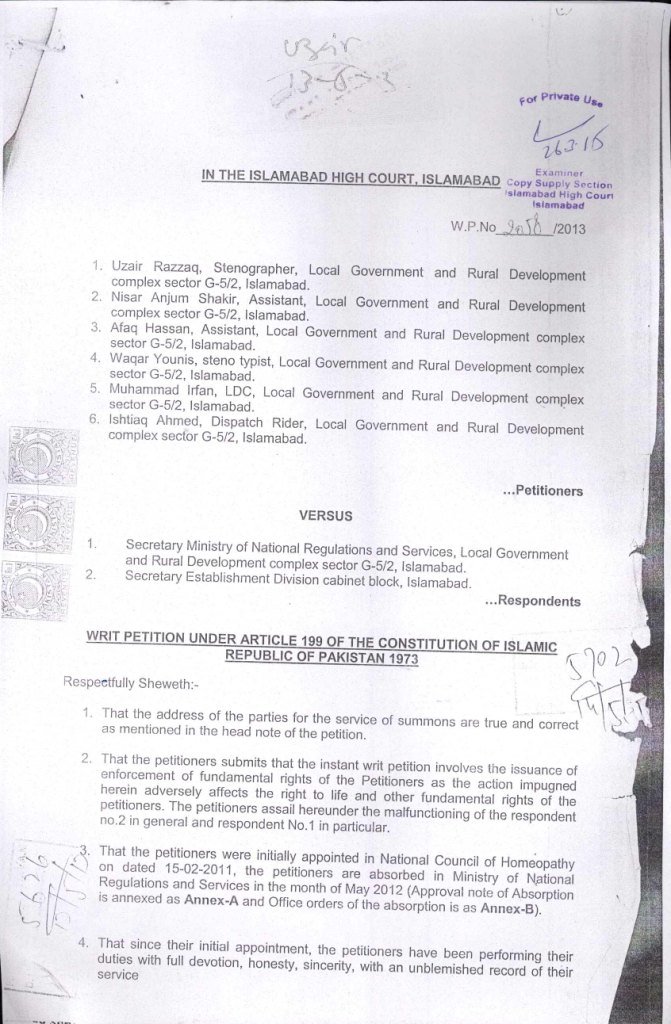 Updates as on 25-04-2015
1. Dawn  Dawn newspaper link:
http://epaper.dawn.com/DetailNews.php?StoryText=24_04_2015_153_008
2. Jang newspaper link:
http://e.jang.com.pk/04-24-2015/pindi/pic.asp?picname=623.gif