Notification of Eid-ul-Fitr Holidays 2015 by Courts has been issued. The detail of the same is as under:
Eid-ul-Fitr Holidays by Lahore High Court Lahore
Lahore High Court Lahore has issued Notification No. 212-A/XVII-3 dated 14-07-2015 regarding Eid-ul-Fitr Holidays in Lahore High Court Principal Seat, its benches at Bahawalpur, Multan and Rawalpindi and Civil and Session Courts in Punjab with effect from 17-07-2015 to 21-07-2015 (Friday to Tuesday).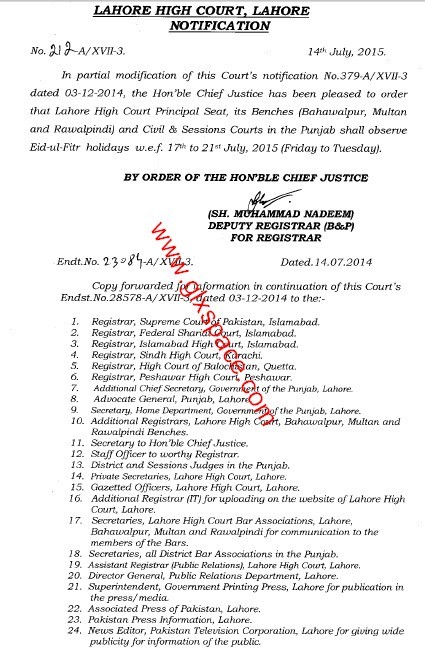 Eid-ul-Fitr Holidays by Sindh High Court
In the same way The High Court of Sindh, Karachi has also issued Notification on 14-07-2015 in connection with Eid-ul-Fitr Holidays in the High Court of Sindh Karach, its Bench at Sukkur, Circuit Courts at hydrabad and Larkana as well as District and subordinate courts in Sindh wef 17th July 2015 to 21st July 2015.
Special thanks to Mr. KHURSHID AHMAD for sending the copy of the Notification.