Last Updated on February 25, 2021 by Galaxy World
Punjab Local Government Board, Local Government Complex Lahore has issued Notification on 28-08-2019 in connection with Adhoc Relief Allowance 2019 Local Govt and Special Conveyance Allowance for the disable employees. Detail is as under:
No. LCS(Acctt-Misc)-2(71)/2005-P-II: In exercise of the powers delegated upon him by the Punjab Local Government Board vide notification No.LCS(ACCTT-MISC)2(71)-2/2005 dated 01.01.2008, the Secretary Local Govt. & Community Development/Chairman Punjab Local Government Board has extended the facility of grant of Adhoc Relief Allowance 2019 to all the members of LGS /LCS(Health Functional Unit) and employees of Punjab Local Govt. Board on the same terms and conditions as mentioned in the Finance Department Circular letter bearing No.FD.PC.2-2/2019 dated 19.07.2019 at the following rates w.e.f 01.07.2019:-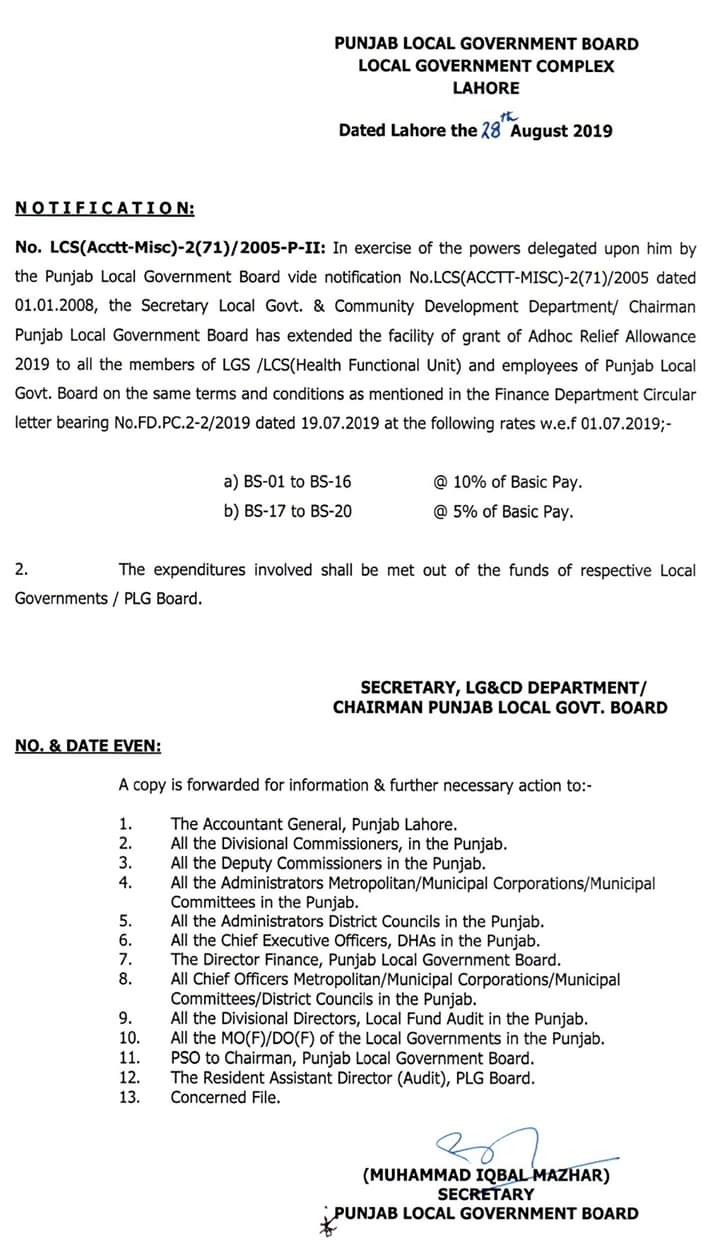 BS-01 to BS-16 @ 10% of Basic Pay.
BS-17 to BS-20       @  5% of Basic Pay.
The expenditures involved shall be met out of the funds of respective Local Governments /PLG Board.
Special thanks to Mr. Zahid Khan for sending the copy of the Notification of ARA- 2019 Local Govt and Special Conveyance Allowance 2019 issued on 28th August 2019.
Notification of Special Conveyance Allowance 2019 by Local Government