Last Updated on December 8, 2019 by Galaxy World
Naya Pakistan's Ghareeb Dost Parogram Ehsaas Undergraduate Scholarships has been started. This programme is for the brilliant students of the lower income families.  This is the biggest scholarship program of the history of Pakistan for undergraduates.
Main Features of Ehsaas Undergraduate Scholarships
Ehsaas scholarships program is the historical step towards the propagation of the higher qualification. Government of the Pakistan is determined that no student left his /her studies due to the shortage of the resources. Government of Pakistan has allotted 50% scholarships for girls.
Special Persons, remote area and underdeveloped areas students are encouraged to apply for these incentives. Minimum 50,000 scholarships annually are granted. During the period of 4 years there will be granted 200,000 scholarships. The scholarships include Tuition Fee and Incentive (Wazeefa).
Standard of Eligibility
Students who have obtained admission on merit in any Government University
Students who belongs to the lower income families
Procedure to Apply
Eligible students can apply online at HEC (Higher Education Commission)
You can deposit complete application form alongwith required documents at the Financial Aid Office of the concerned University.
The students are requested not to submit directly the application forms to HEC or BISP
Last date to apply for Ehsaas Undergraduate Scholarships is 10th December 2019.

Now extended to 24th Dec 2019

.
Students Alert
Extension in Date Ehsaas Undergraduate Scholarships
In continuation to the previous advertisement of Ehsaas Undergraduate Scholarship Project" by the Higher Education Commission (HEC), Pakistan in national dailies dated 04-11-2019, the deadline for submitting applications was December 10, 2019. Due to repeated requests from universities and students, the date of application under Ehsaas Undergraduate Scholarship Project has been extended to December 24, 2019.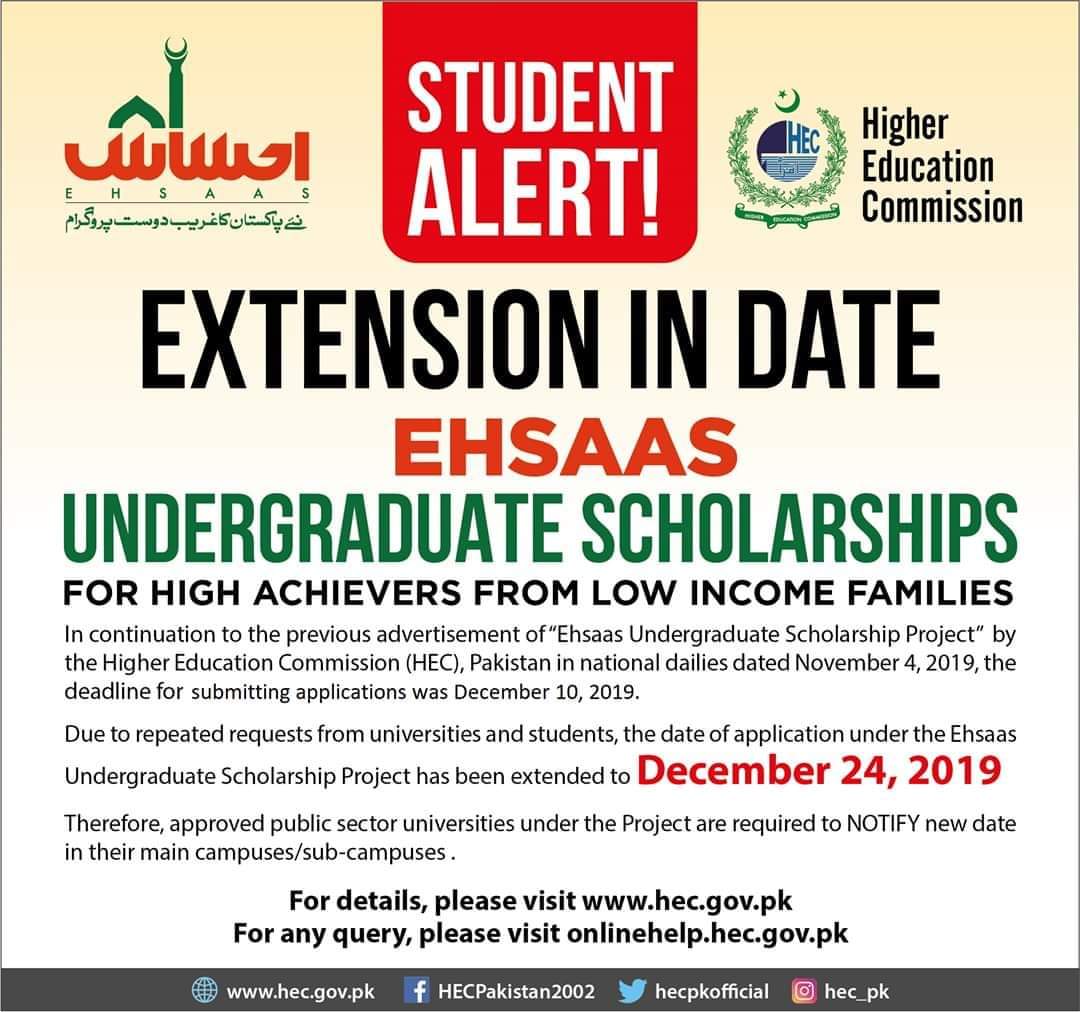 It is added here that PEEF has also announced Special Quota Educational Scholarships 2019-20 for the students of the province of Punjab. As you see that the PEEF Scholarships are only for the Punjab but Ehsaas Scholarships are all over the Pakistan. Any deserved student who is studying in any Government university of Pakistan can apply.
You may also like: Sindh Endowment Fund Scholarships