Last Updated on April 14, 2020 by Galaxy World
Due to precautionary measures, notifications of Closing of BISE Multan and Sahiwal for Public Dealings have been issued on 19-03-2020. Students, Parents and Teachers can contact all the below numbers in case of any query/information.
Notification of Closing BISE Multan
Qazi Mujib-ur-Rehman, System Analyst:                                 0334-6353220
Abdul Hameed Khan Baloch, Deputy Controller Examinations (Matric): 0304-6319120
Zafar Iqbal Mobal, PA to Chairperson:                                 0300-7370488
Muhammad Ilyas Siddiquei, Assistant Controller Exams (Inter):                 0300-8638060
Mr. Muhammad Munawr Pasha, Assistant Controller (Conduct):                 0321-6896650
Muhammad Nawaz Siddiqui, Assistant Controller (Secrecy):                 0307-6629627
Tariq Mahmood, Assistant Secretary (legal):                                 0345-7306997
Muhammad Aslam Bhutta, PRO/Officer Incharge (Facilitation Center: 0300-6302392
You can also contact at the following office phone numbers:
061-9210010-11
Multan 061-9210019
061-9210014
Latest Updates as on 14-04-2020 Regarding Closing Offices
Board of Intermediate & Secondary Education Multan has issued a press release on 14th April 2020 in connection with further closing of the board offices till 30th April 2020 due to coronavirus spread issue.  The office will not deal with any public during this period.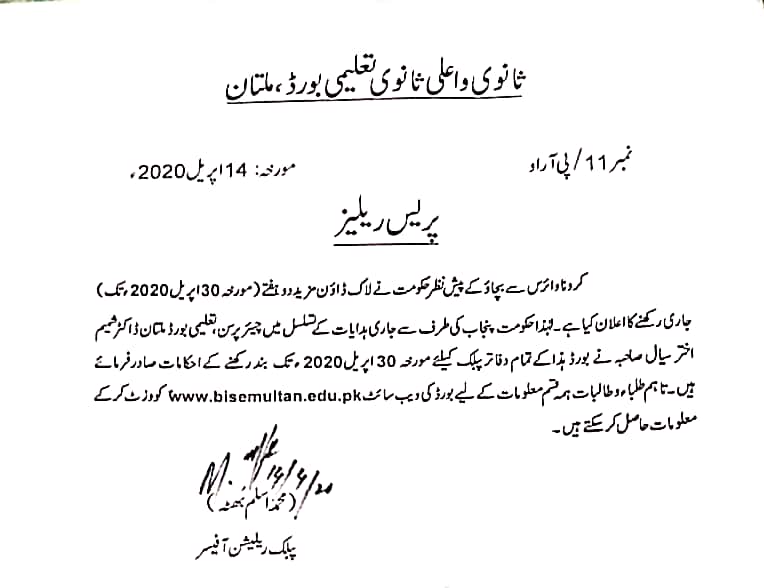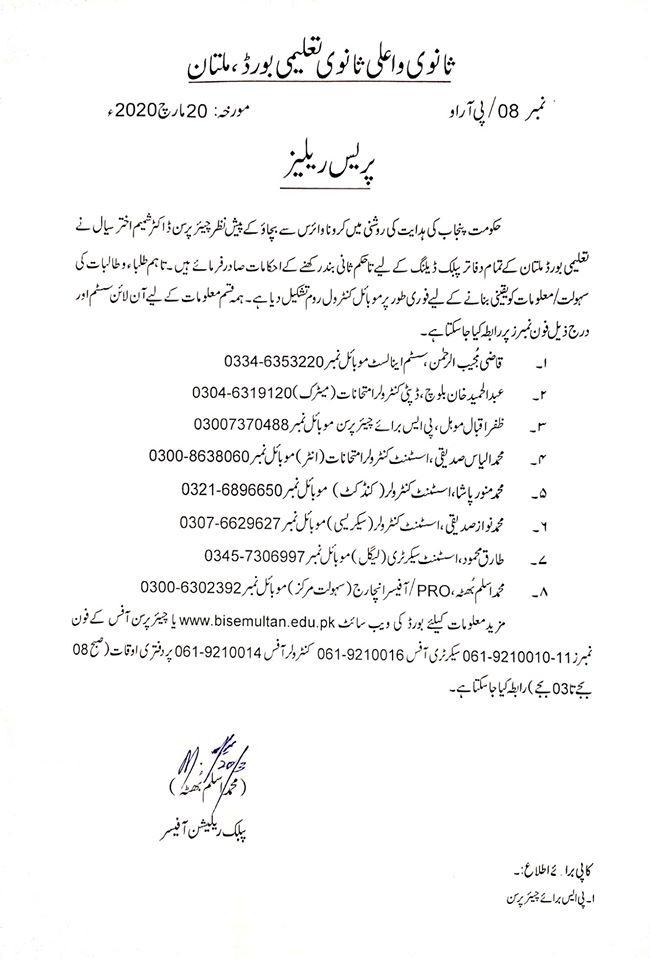 Board of Intermediate & Secondary Education, Sahiwal
Munir Ahmad Khan 0300-7955554
Hafiz Suleman Haidar 0309-0811440
Ali Shams am– 0321-88821203
Abas Ali 0300-7371671
Ameer Khan 0333-4632544
Office Phone Numbers:
040-9200516
Sahiwal 040-900524
040-9200518
For the information of students, Notification of Closing BISE Rawalpindi has already been issued a couple of days. Punjab Government instructed all boards to close their offices for public till further orders. Punjab Education Boards has adopted this policy to avoid the effects of Corona Virus. Students, Parents and Teachers should not go to offices of boards, instead they should contact on phone.