Last Updated on April 4, 2020 by Galaxy World
I am sharing here the details of How to Change Examination Center for FBISE Islamabad. Federal Board of Intermediate & Secondary Education Islamabad has updated the same situation for the students. The students may have to do so due to many reasons. The detail is as under:
Do You Know, How to Change Examination Center?
Change of center shall not be allowed under normal circumstances. However, under special circumstances stated below permission for change of center may be granted.
Candidate will be allowed change of centre if his father or guardian has been transferred within Pakistan and shifted in case of candidates abroad. The application should be accompanied by a photocopy of transfer order (in case of an employee) duly attested by the head of the institution who attested the admission form and in case of shifting from abroad or vice versa, an attested copy of passport must be provided.
Note: No change from one centre to another in the same city/ twin city shall be allowed under any circumstances.
Summary
Only in the following circumstances change of center FBISE  allows:
Transfer of the father of the candidate if his / her father is a Government Employee (In this case transfer order copy candidate must attach)
In case of Foreign candidate and family shifting (In this case passport copy must be attached)
FBISE does not allow Change of center within the same city or within twin cities.
Center Cange Fee
Exam Center Change Fee for Pakistan = Rs. 1000/-
Abroad (40 USD)
The SSC students who want to have a change of examinations center please make sure before applying that if your missing papers are in the new centre or not. If they are not in the new centre then you have to go back to your previous center for those papers.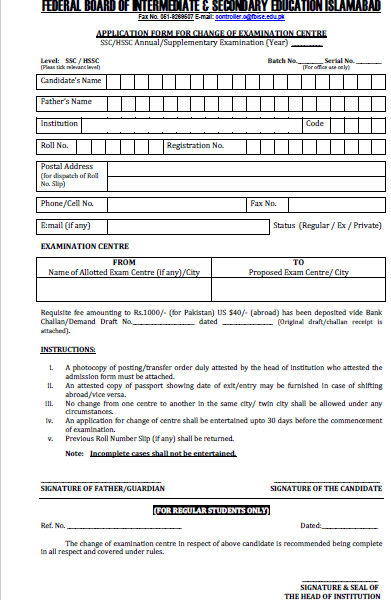 You may also like: Theory / Practical Exams 2020 FBISE Updates