State Bank of Pakistan, SBP Banking Services Corporation (Bank) Currency Management Department has issued Notification on 04-05-2020 in connection with No New / Fresh Currency Notes on Eid-ul-Fitr 2020 Due to Spread of Covid-19 in the country. The details of not to issue new currency notes 2020 on the occasion of Eid-ul-Fitr are as under:
No New / Fresh Currency Notes on Eid-ul-Fitr 2020
As you are aware the Bank's management has taken multiple precautionary measures to ensure social distancing and mitigate the spread of COVID-19. These include but are not limited to performing of only essential/critical functions, making comprehensive work from Home (WFH) arrangements, ensuring workplace SOPs, issuance of medical advisories,  etc.
Accordingly, the Bank's COVID-19 committee chaired by DG (Banking & FMRM) in its meeting held on April 29, 20200 has decided NOT to issue fresh notes to general Public and employees / ex-employees of SBP and its subsidiaries on the occasion of Eid-ul-Fitr 2020.
All Chief Managers the SCB advises disseminating these instructions to all concerned officials for information and meticulous compliance.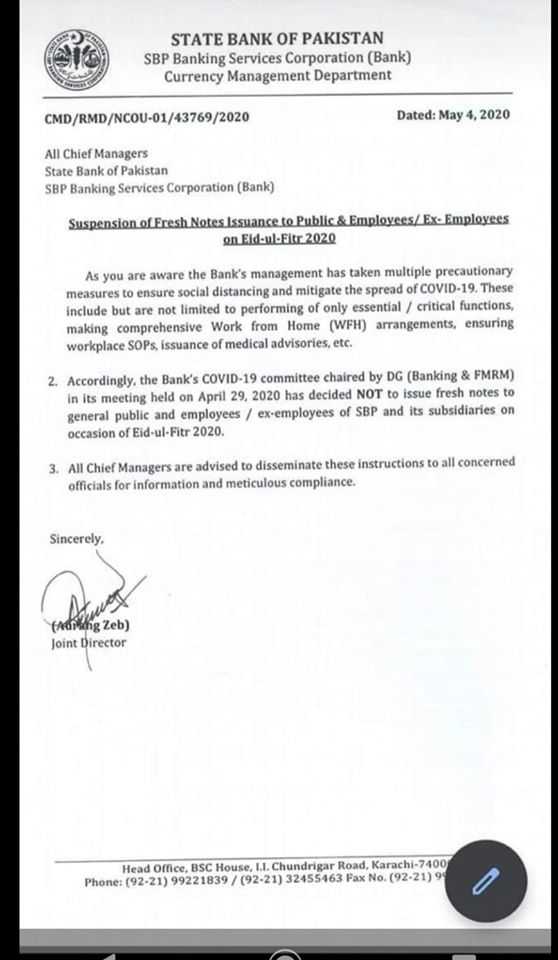 It is to inform the general public that nearly every year the State Bank of Pakistan (SCB) issued new currency notes. But as you know due to precautionary measures, the Government has to take many steps. The stoppage of new notes this year on Eid ul Fitr is also one of these steps.