Last Updated on May 17, 2020 by Galaxy World
Government of Pakistan, Ministry of Interior has issued Notification on 16-05-2020 in connection with Eid-ul-Fitr 2020 Holidays wef 22nd May to 27th May 2020.
Eid-ul-Fitr 2020 Holidays wef 22nd May to 27th May 2020
In continuation of Ministry of Interior's Circular No. 01/01/2020-Public dated 5th December 2019, It is notified for general information that 22nd to 27th May 2020 (Friday to Wednesday) shall be public holidays on the occasion of Holy Festival of Eid ul Fitr.
During these holidays all businesses, public places, community markets, and shops, etc will remain closed. Only essential item shops and medical services / medical stores as already notified will remain open.
The employees will observe 6 days of holidays from Friday to Wednesday.
22nd May 2020 Friday
23rd May 2020 Saturday
24th May 2020 Sunday
25th May 2020 Monday
26th May 2020 Tuesday
27th May 2020 Wednesday
If any employee gets 2 days casual leave 28th & 29th May, then he/she can enjoy 10 Days Holidays on Eid-ul-Fitr 2020.
Special Thanks:
Muhammad Bux Saleem Khaskheli
Pharmacist Ayaz Lashari
Hafiz Muhammad Irfan
Kenneth Eric
Mr. Najeeb Khan
Mr. Haris Zarrar
Mr. Hamid Hussain
Syed Waqar Ali
The copy of the Notification, the Ministry of Interior Pakistan has sent to all the concerned offices, departments and Ministries for their information.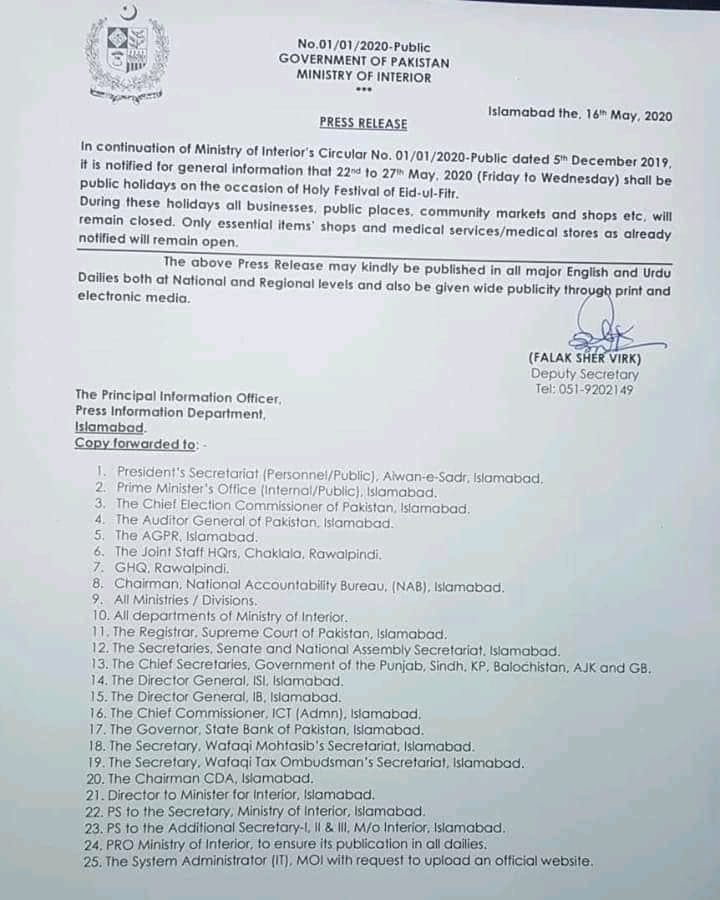 You may also like: Optional & Public Holidays 2020