Government of Pakistan, Ministry of Interior has issued Notification on 05-12-2019 in connection with Optional and Public Holidays 2020. The Public and Optional holidays regarding festivals of Muslims and Minorities for the calendar Year 2020 would be as under: Detail is as under:
Detail of Public Holidays 2020
Sr.       
Name of Occasion
Days
Dates during year 2020
1
Kashmir Day
Wednesday
5th February, 2020
2
Pakistan Day
Monday
23rd March 2020
3
Labour Day
Friday
1st May 2020
4
Eid-ul-Fitr (1st Shawal 1441A.H)
Monday, Tuesday, Wednesday
25th,26th and 27th May 2020
5
Eid-ul-Azha (10st  Ail Haj 1441A.H)
Friday, Saturday and Sunday
31st July,1st and 2nd August 2020
6
Independence
Friday
14th August 2020
7
Ashura (9th and 10th Moharram 1442 A.H)
Saturday and Sunday
29th and 30th august
8
Eid Milad-un-Nabi (12th Rabi-ul-Awal 1442 A.H)
Friday
30th October 2020
9
Quaid-e-Azam Day/ Christmas
Friday
25th December 2020
10
Day after Christmas
Saturday
26th December 2020

(For Christians only)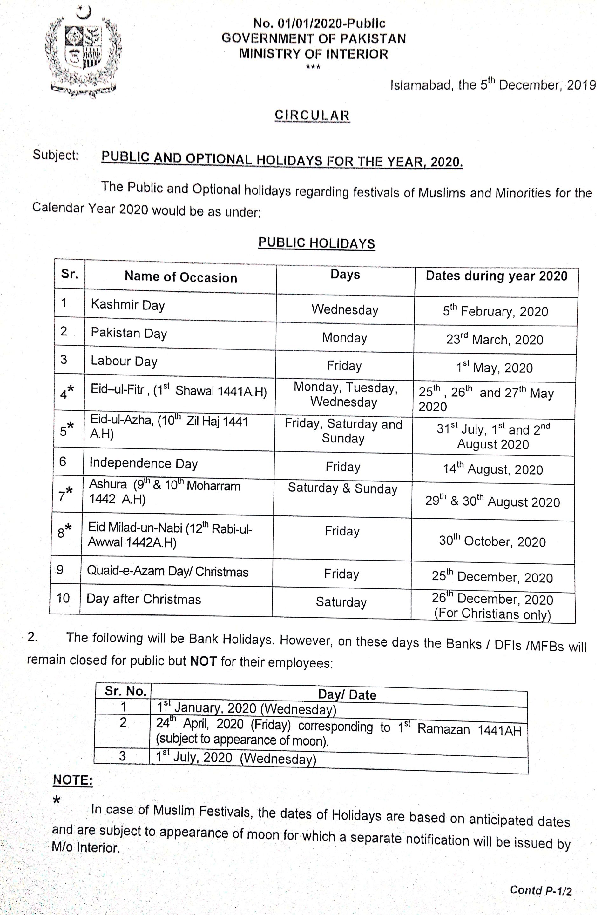 From the above chart you can see that most of these gazette holidays 2020 falls on Friday for the Federal Government employees of Pakistan.
The following will be bank holidays. However, on these days the Banks / DFIs /MFBs will remain closed for public but NOT for their employees:
| | |
| --- | --- |
| Sr. No       | Day/ Date |
| 1 | 1st January, 2020 (Wednesday) |
| 2 | 24th April,2020 (Friday) corresponding to 1st Ramazan 1441AH (subject to appearance of moon) |
| 3 | 1st July, 2020 (Wednesday) |
Optional 2020
Only one optional holiday can be granted to a Muslim Government employee and three for the non-Muslim Government employee in one calendar year.  You can see more details at the copy of the Notification of Optional and Public Holidays 2020. Special thanks to Mr. Zahid Khan & Mr. Zia ur Rehman who sent the copy of this Notification. This year Government announced Holiday on 28th Oct 2019 for Diwali too for the Hindu Community.