Last Updated on August 10, 2021 by Galaxy World
Government of the Punjab, School Education Department has issued Notification on 21-08-2020 in connection with Transfer/ Shifting of Clerical Staff in Punjab Schools / Offices in Punjab of Education Department. The details are as under:
Shifting of Clerical Staff in Punjab Schools / SED 2020
I am further directed to state that as per Sr.No.08 of Transfer Policy 2013, the ministerial staff such as Junior Clerk/ Senior Clerk/ Assistants/ Stenographer/ Superintendents/ extra Assistant Directors, etc will have 03 years tenure of service at on office/station. However, it has been observed that policy Instructions are not being observed in letter & spirit. Overstay of clerical staff at the same station has led to corruption and the development of their monopoly over official issues.
In view of the above, the Competent Authority has desired that clerical staff who have completed 03 years tenure in one office may be shifted/adjusted at some other Office / School.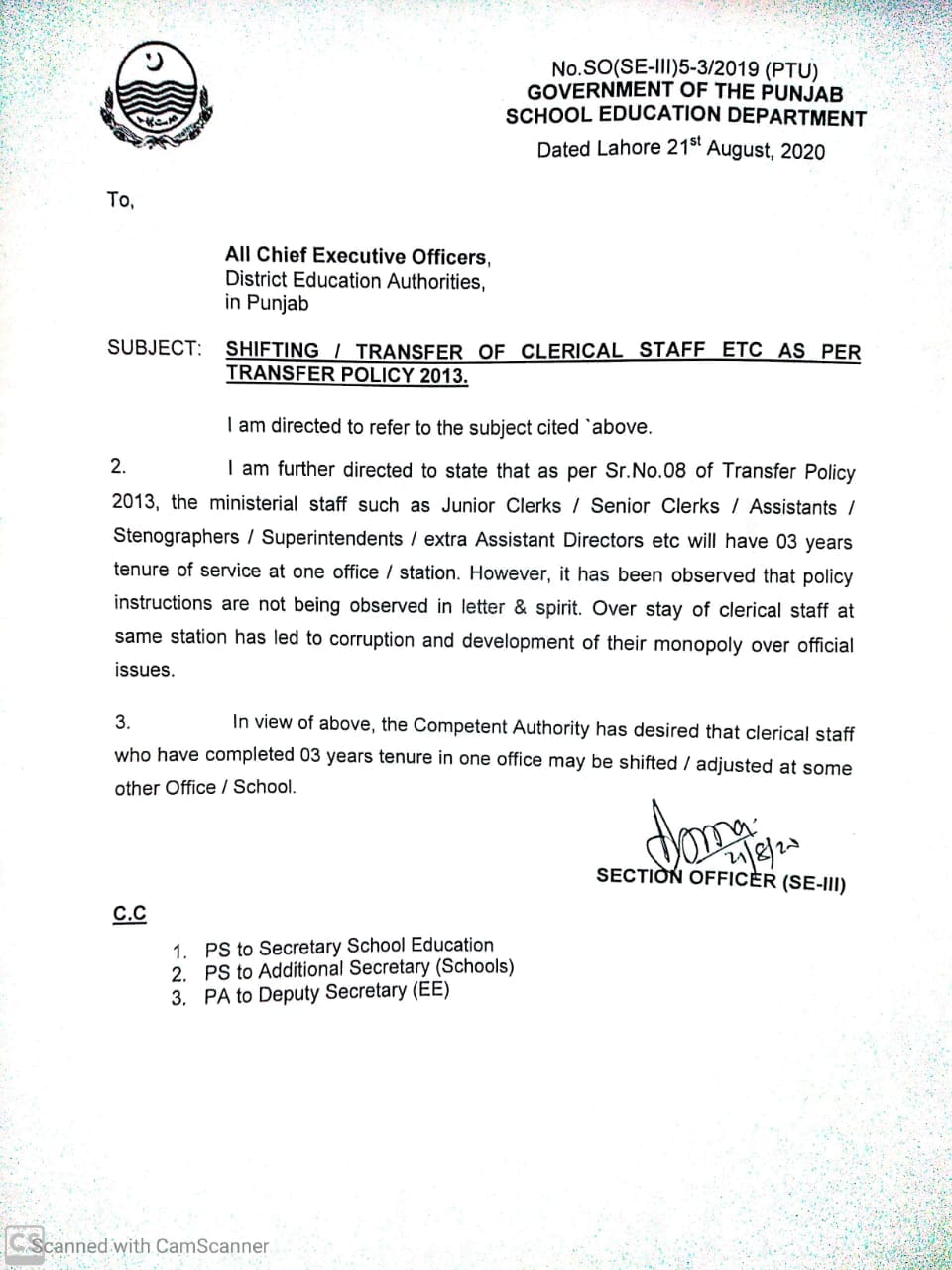 The summary of this letter is that the School Education Department has ordered lower offices to transfer/shift the ministerial staff to other schools or offices. These clerical staff are those who have completed their 3 years service at one station. There is no issue for that employee who has served less than
Special thanks:
Mr. Muhammad Saleem Ch
You may also like: Doctors, Junior Clerks and Assistants Jobs through PPSC
Cancellation of Orders of Transfers of Clerks
Punjab Government, SED Department has issued a letter on 27-08-2020 in connection with Cancellation of Orders of Transfers of Clerks of the schools and offices related to the education department.