Last Updated on August 10, 2021 by Galaxy World
The Daily Express dated 21-08-2020 has published a number of Doctors, Assistants, and Junior Clerks Jobs 2020 through PPSC. These Punjab Public Service Commission Jobs in August 2020 have been announced in the following five departments:
Specialized Healthcare & Medical Education Department
VIP Flight, S&GAD
Archives & Libraries Wing, (S&GAD)
Services & General Administration Department
Punjab Public Service Commission
The last date to apply these vacancies in PPSC and other departments is 7th September 2020. The willing candidates can apply for these vacancies till 07-09-2020. You can see the ad No. 22/2020 the required details and general instructions to apply for these jobs.
Summary Junior Clerks Jobs 2020 through PPSC and Other Vacancies
| | | | | |
| --- | --- | --- | --- | --- |
| Sr. No | Name of Vacancy | BPS | Number of Vacancies | Department |
| 1 | Dental Surgeon Demonstration / Registrar | BPS-17 | 200 Vacancies | Healthcare & Medical Education Department |
| 2 | Senior Registrar Paediatric Neurology | BPS-18 | 01 Vacancy | -do- |
| 3 | Senior Registrar Psychiatry | BPS-18 | 02 Vacancies | -do- |
| 4 | Assistant Professor Urology | BS-18 | 06 Vacancies | -do- |
| 5 | Aircraft Engineer B2 (CAT-X) | BPS-19 | 01 Vacancy | VIP Flight, S&GAD |
| 6 | Data Entry Operator | BPS-12 | 01 Vacancy | Archives & Libraries Wing (S&GAD) |
| 7 | Assistant | BPS-16 | 57 Vacancies | Services & General Administration Department |
| 8 | Junior Clerk | BPS-11 | 15 Vacancies | Punjab Public Service Commission |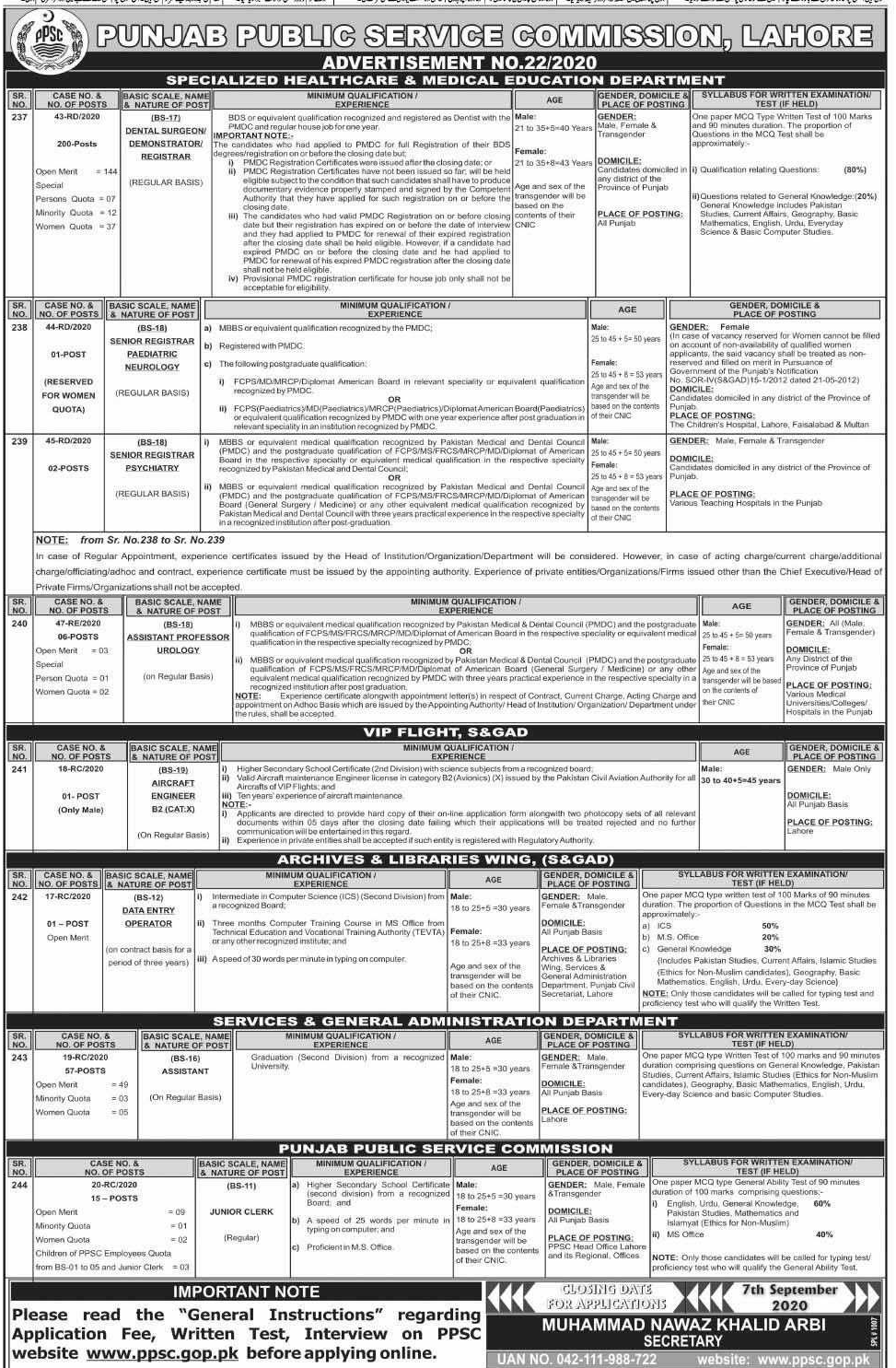 You may also like: Withdrawn of Notification of Time Scale Promotion