Last Updated on August 10, 2021 by Galaxy World
Government of Pakistan, Ministry of Interior has issued Notification on 25-08-2020 in connection with Notification of Holiday on 9th & 10th Moharram 1442 AH.
It is notified for general Information that 29th & 30th August, 2020 (Saturday & Sunday) shall be public holidays on the occasion of Ashura ( 9th & 10th Moharram 1442 AH).
The above Press Release may kindly be published in all major English and Urdu Dailies both at National and Regional levels and also be given wide publicity through electronic media.
The employees of the Federal Government having duty 6 days as week will have a holiday on Saturday and Sunday. Other employees having duty 5 days a day have already Saturday and Sunday, so this Notification has no effect on them.  The employees having duty 6 days a week will now this time will also get the Holiday on 29th Aug 2020.
9th Moharram Saturday 29th August 2020
10th Moharram Sunday 30th August 2020
Special thanks to Syed Waqar Ali for sending the copy of the Notification of Holiday on 9th & 10th Moharram 1442 AH by Federal Government.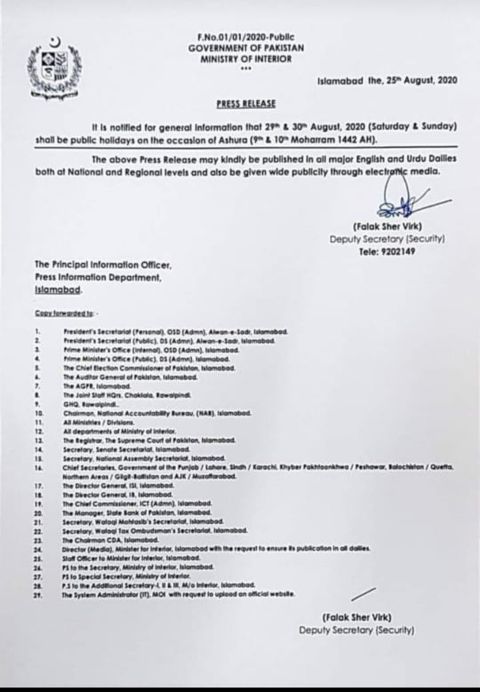 Note: This Notification is by Federal Govt. Punjab Government and other provinces will also issue the Notification soon.  For the information of the employees, Finance Department Sindh has already issued Notification of Advance Disbursement of Pay and Allowances & Pension August 2020 on 28-08-2020.