Punjab Boards Committee of Chairmen has issued a Notification on 30-09-2020 in connection with the Online Schedule of Enrollment / Admission in 9th Class for Session 2020-22. This notification of Online Registration 2020-2022 is for all Education Boards in Punjab. The details of the same are as under:
Online Schedule of Enrollment/Admission in 9th Class
I am directed to inform you that the Chairman PBCC in anticipation of the approval of Punjab Boards Committee of Chairpersons approved for Class-IX (9th) for the academic Session 2020-2022 for all BI&SEs in Punjab.
#
Schedule
Last dates of admission in Educational Institutions, online data entry, and submission of original computerized Fee Challan/hard copy of Enrollment Return
Revised Dates
i)
Admission in Class-IX without late fee
01-07-2020

To

07-08-2020

01-10-2020

To

07-10-2020

ii)
Admission late fee of Rs.500/- per student (Payable to Board)
08-10-2020

To 22-09-2020

08-10-2020

To 22-10-2020
Accordingly, I am, directed to request you to circulate the above-said schedule of enrollment/admission to all the Educational institutions affiliated within the territorial jurisdiction of your Board.
All Boards of Education in Punjab will soon issue their own press releases regarding the Online Schedule of Registration/ Admission for Class-IX (9th) academic session 2020-22.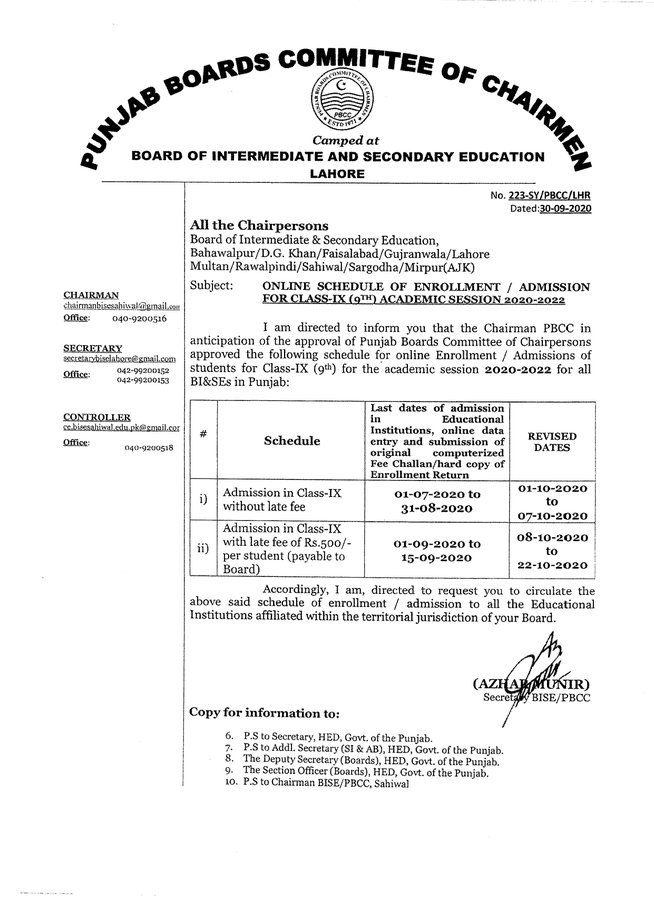 Multan Board Class 9th Registration 2020-22
BISE Multan has also announced for the Registration in class IX. Multan Board has issued a Notification on 1st October 2020.