Last Updated on August 10, 2021 by Galaxy World
Board of Intermediate & Secondary Education Mardan has decided to the declaration of BISE Mardan Result Special Exam 2020.  The schedule of the announcement of SSC (Matric) special exam 2020 result for the Mardan Board is as under:
BISE Mardan Result Special Exam 2020
Date: 11-10-2020
Day: Sunday
Timings: 5 pm (1700 HRS)
How to View SSC (Matric) Result?
Students can get the result online at the given time and date. They can check the result as below:
Special Exam 2020 Mardan Board Result 2020
CD for Special Exam Result Mardan Board
The result copy will be available on CD. The willing persons can get the CD from BISE Mardan at the cost of Rs. 300/-
DMCs
The students can get Detailed Marks Certificates from the following Boards campus with effect from 12-10-2020 (Monday):
District Sawabi
For Male Students:         Government High School Sawabi
For Female Students:     Government Girls Sentinel Model High School Sawabi
District Nowshera
Pakistan Degree College Noshehra (Both for Boys and Girls)
District Mardan
BISE Mardan One Window (Both for boys and girls)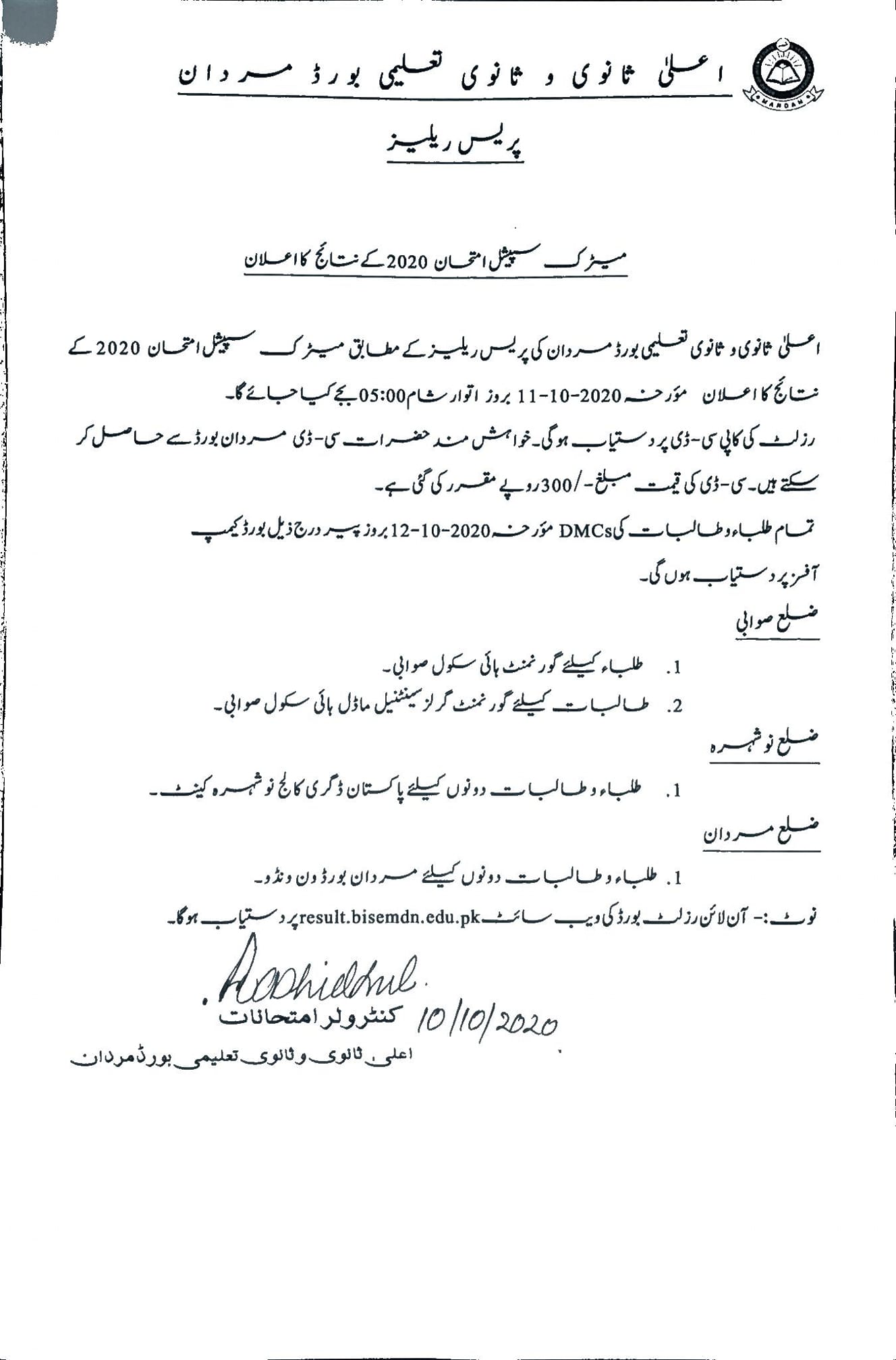 Due to the spread of the COVID-19, the Mardan Board had to give Special COVID-19 Exam. The purpose of the same was to satisfy the students. As there were many students who were not satisfied with their results. The BISE Mardan completed this Special Exam task in a very short period of time. The main purpose of this early exam and the early result was that there was less time for the students in the current academic session.