Last Updated on August 6, 2021 by Galaxy World
Government of the Punjab Communication & Works Department has issued a Notification on 19-02-2021 in connection with Guidelines for Implementation of Policy Regarding Regularization of Work Charged / Daily Wages/Contingent Paid Staff. The details are as under:
Guidelines for Implementation of Policy Regarding Regularization of Work Charged / Daily Wages Staff
I am directed to refer to the subject cited above and to state that the Government of Punjab S&GAD Department has issued a policy (Annex-A) to regulate the services of Work-charged employees. In this regard following guidelines are issued for the guidance of the respective appointing authorities:-
The terms & Conditions of service of regularized Permanent Workmen shall be governed by industrial & Commercial Employment (Standing Orders), Ordinance, 1968.
The Work-charge employees who have been working for more than 09 months shall be considered for regularization of Service as Permanent women.
The respective hiring authority shall prepare the case of each Workman and submit it before the Departmental Security Committee for consideration. The case should include the following documents:-
Hiring Orders for last 09 months at least.
Record of Wages paid to the employee for last 09 months at least.
Suitability Certificate of Workman against specific category from the Hiring Authority. While issuing a Suitability Certificate, the hiring Authority shall scrutinize the eligibility, qualification & skillsets of the woman against the proposed category.
After a recommendation from the Security Committee, the Hiring authority shall issue a Regularization Order (Specimen at Annex-B)
The work-charge employees who have more than 09 months of service but do not possess the required skill set/qualification for the post shall not be regularized. However, they shall be allowed to continue as Temporary Workmen till the completion of Specific projects/schemes/work.
The hiring of work charge employees in future shall be sparingly made and that too for only 90 days. Such hiring will not be further extended. In case of extreme necessity. The next authority senior to the hiring authority shall give an extension of 90 days through speaking order mentioning therein the reason for such extension.
All the hiring authority shall not extend the period of hiring of a work-charge employee beyond 90 days with effect from 01-02-2021.
Special thanks: Mr. Najmul Saqib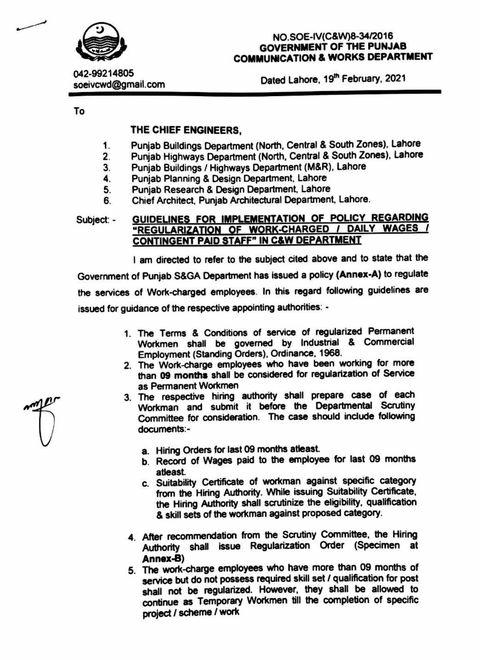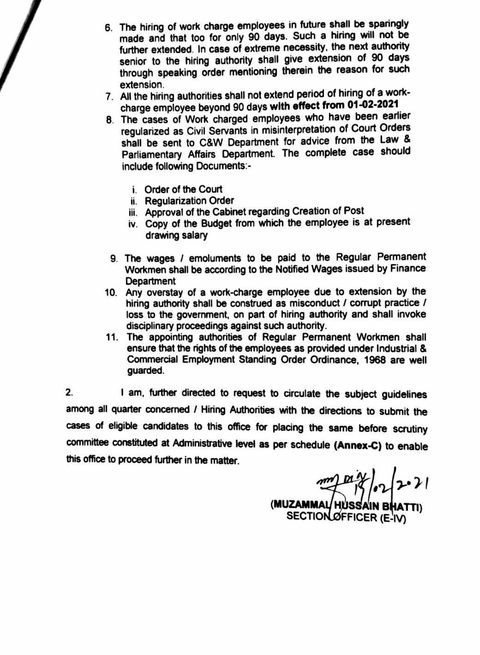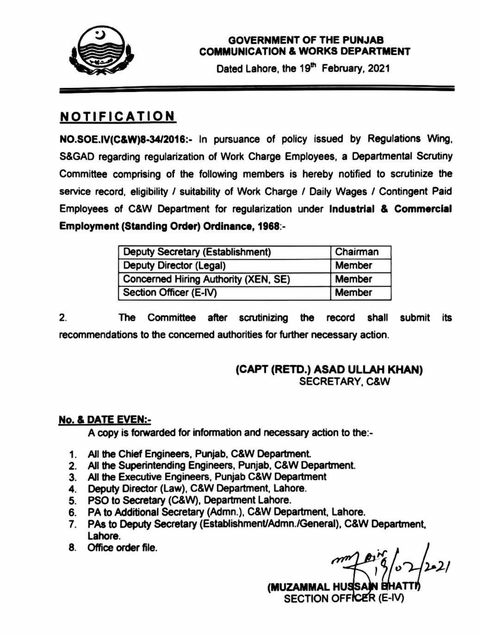 You may also like: Regularization Policy 2021 for Daily Wages Employees