Last Updated on August 6, 2021 by Galaxy World
Directorate General of Science and Technology, Government of Khyber Pakhtunkhwa has issued a letter on 15-03-2021 in connection with the Inaugural Meeting of the Advisory Committee Regarding Cryptocurrency and Cryptomining. The details are as under:
Inaugural Meeting of AC on Cryptocurrency and Cryptomining
I am directed to refer to the subject noted above and to state that Honorable Advisor to Chief Minister for ST&IT has kindly consented to call the inaugural meeting of the advisory committee on 17-03-2021 at 11:00 am in the conference room of Khyber Pakhtunkhwa Information Technology Board Hayatabad Peshawar.
In this regard may we request all the respected members of the group to please share whether they will participate in person or online. The respected members participating online may please share their email addresses anytime today. The respected member of the committee will be kept abreast of the arrangements of the meeting.
For clarification, the undersigned can be reached at cell number: +923005723929 and email address: [email protected]
Thanking you in anticipation.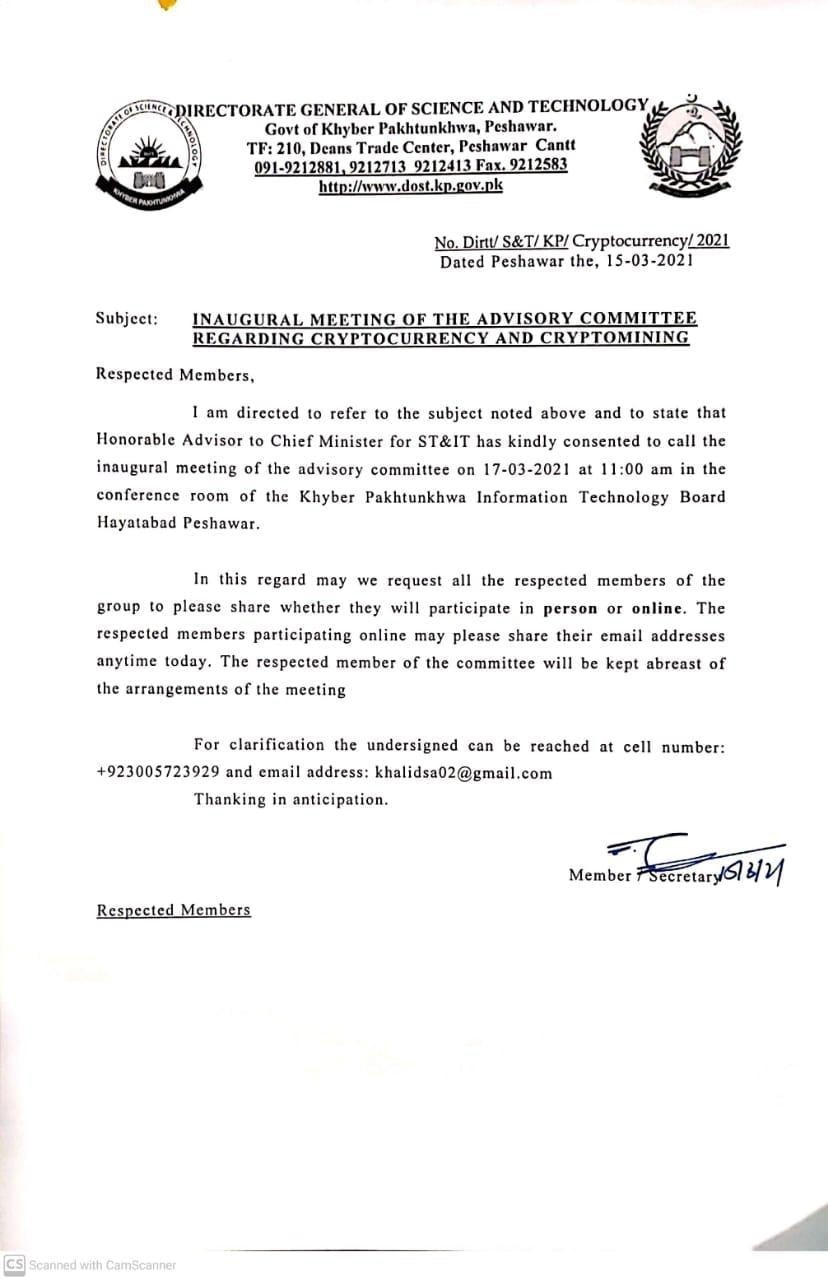 Updates as on 17-03-2021
Peshawar: Meeting of cryptocurrency and cryptocurrency experts with Ziaullah Bangash. Waqar Zakariya, Dr. Wajid, Ahmed Manzoor, and others are included in crypto experts.
Discussion on research and legislation regarding cryptocurrency and cryptocurrency in Pakistan.
In the meeting, Secretary of Science and Information Technology Khyber Pakhtunkhwa Humayun Khan and Director of Science and Technology Khalid Khan were also included.