Last Updated on August 6, 2021 by Galaxy World
I am sharing the minutes of the meeting held on 31-05-2021 in connection with Updates of Special Allowance 2021 Punjab @ 25% of the running basic pay. The details are as under:
Updates of Special Allowance 2021 Punjab @ 25%
Agenda No.1
As announced by Hon'ble Chief Minister Punjab dated 25.05.2021,  "the Government of Punjab has decided to give 25%  special allowance to those employees of BS-1 top BS-19 who are not getting any allowance other than their salaries from the next month so that difference may be reduced in their salaries to bring betterment in their economic condition ". The matter will be followed up and expedited through the concerned forum.
Updates as on 03-06-2021
Upgradation of Employees of NHP
Agenda No.2
The matter regarding up-gradation of employees of National Health Programme with reference to note for Minister, Law and Parliamentary vide No.SO(C&C) 1-1/2020(M) Misc. dated 19.03.2021 will got expedited through the concerned department to finalize the matter.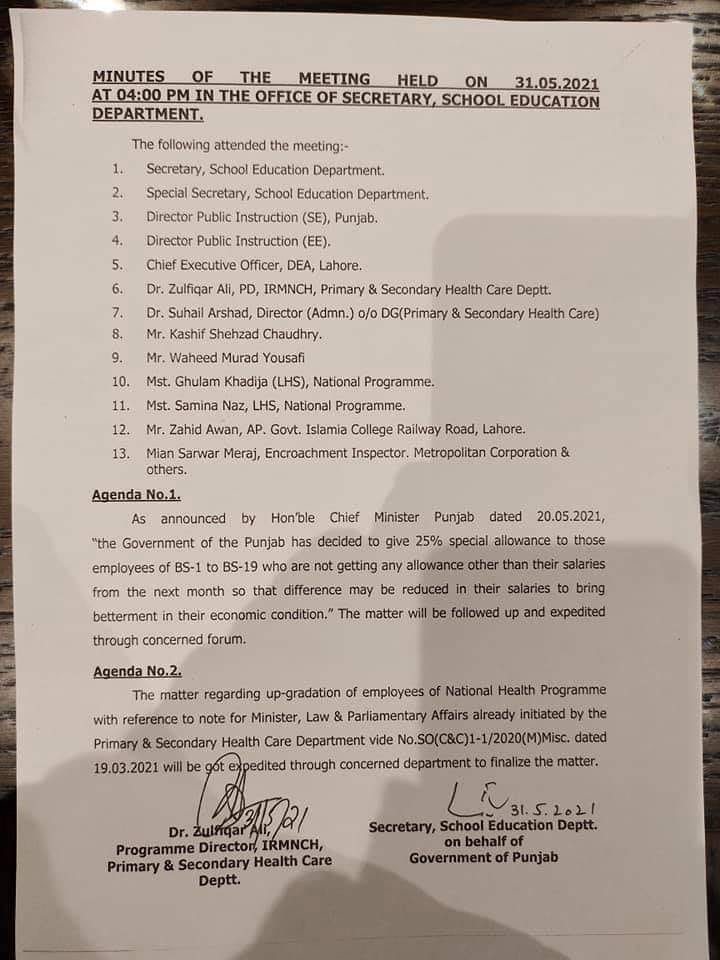 Punjab Government has already announced the Special Allowance @ 25%. The employees want that the Special Allowance should be as per with the Federal Government. The Punjab Government will give this allowance only for the month of June 2021. After 30th June 2021, there are chances that this allowance will be part of Basic Pay. But let's see what happens to this allowance in the future.
You may also like: Revised Exams Schedule 2021 Punjab