Last Updated on October 31, 2021 by Galaxy World
Government of the Punjab Local Govt & Community Development Department has issued a Notification on 04-10-2021 in connection with Lighting Arrangements in Public Graveyards. The details of the same letter are as under:
Lighting Arrangements in Public Graveyards Punjab
According to the Notification, I direct to refer to the subject cited above. I state that as per section 21 read with the third, fourth, and fifth schedule of PLGA, 2019, the function of Local Governments is as under:
"Burials, cremations, etc." and Establishment & Management of Graveyards as per population requirement of the local area with provision of boundary walls, lighting, ablution area, Janazgah, and such other facilities form achieving efficient management".
I am further directed to state that competent authority has been pleased to desire that all Local Governments in Punjab may ensure to provide lighting facilities In the public graveyard of Punjab in the public interest at large.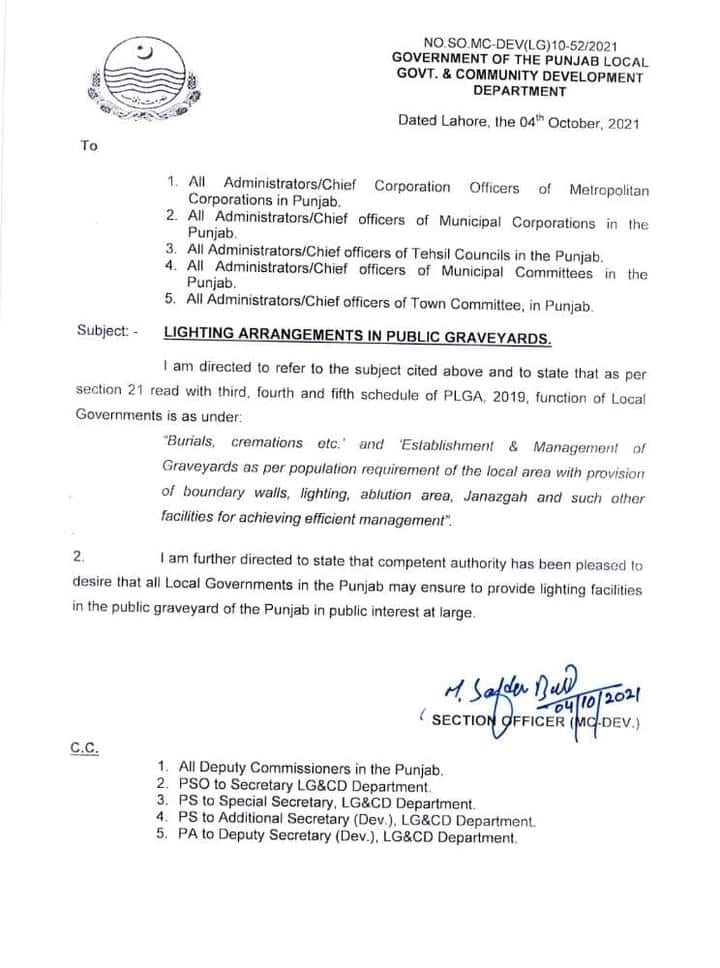 CC:
All Deputy Commissioners in Punjab
PSO to Secretary LG&CD Department
PS to Special Secretary LG&CD Department
PA to Deputy Secretary (Dev) LG&CD Department
PS to Additional Secretary (Dev) LG&CD Department