Last Updated on December 1, 2021 by Galaxy World
After the approval of the Chief Minister Punjab, College Teaching Interns (CTIs) Jobs 2021 in Punjab have been announced. The Higher Education Commission wants to hire the services of the CTIs in colleges of Punjab. These CTIs Jobs in Punjab 2021 are for a limited period.
College Teaching Interns (CTIs) Jobs 2021
| | | |
| --- | --- | --- |
| 1 | Name of Position | College Teaching Intern (CTIs) |
| 2 | Age Limit | No Age Limit |
| 3 | Salary (Stipend) | Rs. 45,000/- per month |
| 4 | Duration | Five Months |
| 5 | Minimum Qualification | MA/M.Sc (2nd Division) |
The procedure of Application and Appointment CTIs
Willing candidates can check the details of the vacant posts at their nearest colleges for men and women with effect from 22nd Nov 2021
The willing candidates (Male and Female) can deposit their application in the concerned college wef 24-11-2021 to 27-11-2021
Colleges will display the merit list on 29th Nov 2021 at 1000 HRS at the notice board
They can submit the complaints against the merit list if any to the concerned Deputy Director Colleges with effect from 30-11-2021 to 01-12-2021
The final merit list, the colleges, will display on 03-12-2021 at 1000 HRS on the notice board of the concerned college
The selected candidates have to take interviews wef 04-12-2021 to 06-12-2021
The list of successful candidates will be displayed on the notice board of the concerned college on 07-12-2021 at 11:00 am
You can submit your complaint to the Director Public Instructions (Colleges) Punjab Lahore wef 08-12-2021 to 11-12-2021
Final Merit List, the colleges will display on 14-12-2021 at 11:00 am
Terms and Conditions for CTIs
All these positions are for a limited period
If appointed on these vacancies can never be made permanent
All CTIs will get a certificate on the successful completion of the duration
The details of the 5% quota for minorities and 3% quota for the disabled are available in the colleges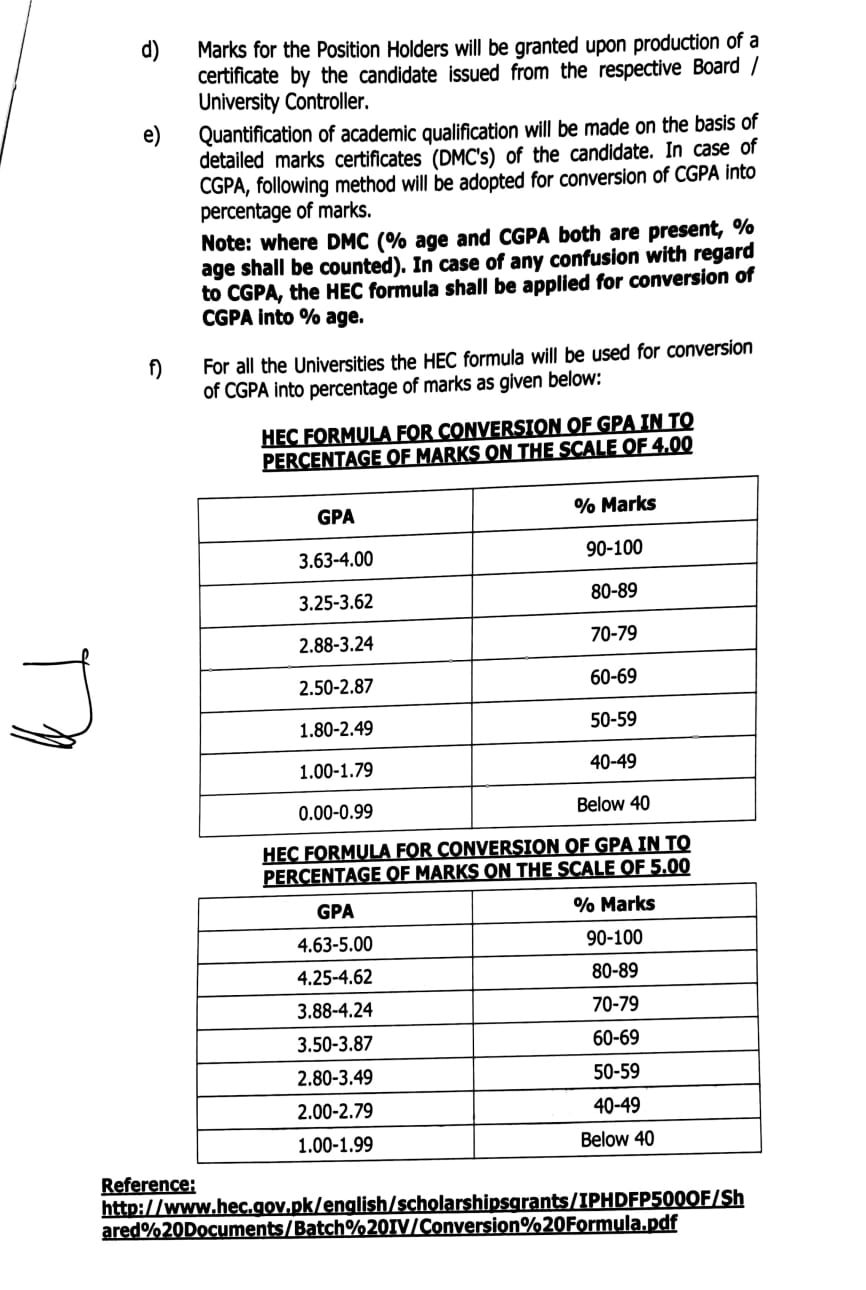 Amendment in Schedule CTIs Jobs 2021
The higher education Department due to some reasons has made amendments to the interview and another schedule. In this regarding a correction in the advertisement of CTIs jobs 2021, the HED has made.  The candidates now follow this new schedule.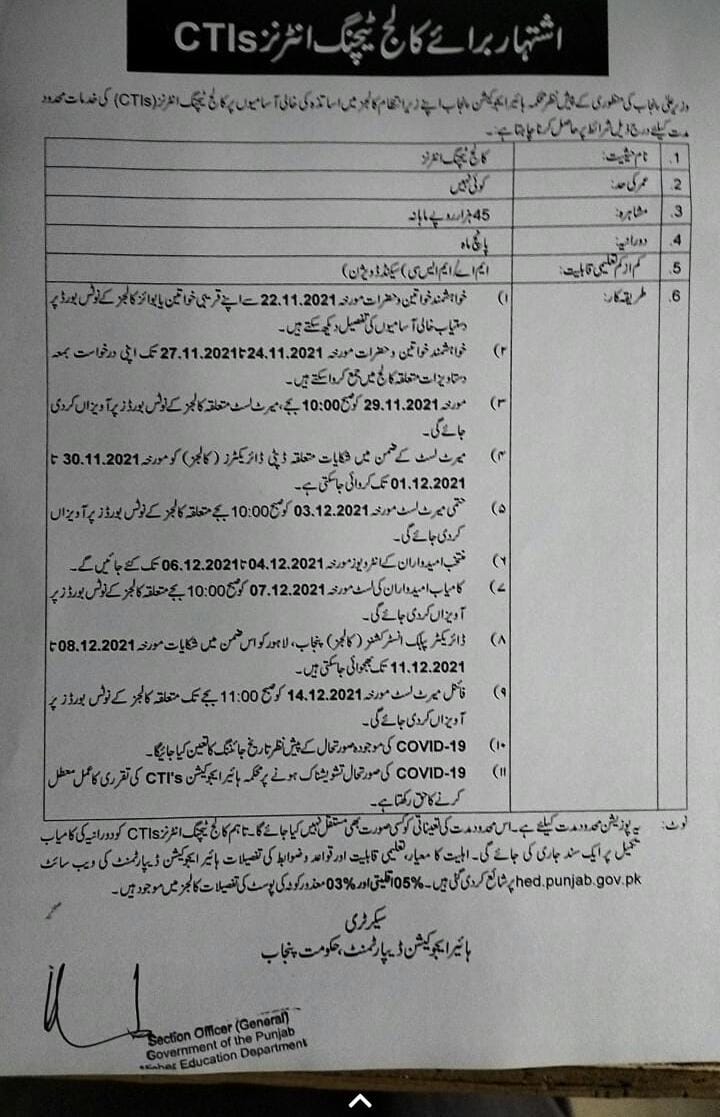 you may also like: List of Colleges with Contact Numbers for CTIs Vacancies
Qualification and Marks for Qualification
For BS Colleges: MS/M.Phil/Ph.D.,  (if not available, M.A/M.Sc may be considered)
For all other colleges including Community Colleges:-
Master Degree / BS (FYFP) at least 2nd Division in the relevant subject.
. Marks for Education Qualification                                         85
. Marks for Qualification above Master Degree                     05
. And Marks for position holders in Board / University                05
. Interview Marks                                                                        05
(Interview marks will be awarded on a satisfactory presentation by the candidate on the subject)
Conversion of CGPA into Percentage
| | |
| --- | --- |
| GPA | % Marks |
| 3.63-4.00 | 90-100 |
| 3.25-3.62 | 80-89 |
| 2.88-3.24 | 70-79 |
| 2.50-2.87 | 60-69 |
| 1.80-2.49 | 50-59 |
| 1.00-1.79 | 40-49 |
| 0.00-0.99 | Below 40 |
HEC formula for Conversion of GPA into Percentage of marks on the scale of 5.00
| | |
| --- | --- |
| GPA | % Marks |
| 4.63-5.00 | 90-100 |
| 4.25-4.62 | 80-89 |
| 3.88-4.24 | 70-79 |
| 3.50-3.87 | 60-69 |
| 2.80-3.49 | 50-59 |
| 2.00-2.79 | 40-49 |
| 1.00-1.99 | Below 40 |
You may also like: CTIs Vacancies List 2021