Last Updated on January 13, 2022 by Galaxy World
School Education & Literacy Department Government of Sindh has issued a Notification on 05-01-2022 in connection with DSCI for Sindh Teaching Interns Program (STIP) Salary Rs. 60000/-. The details are as under:
DSCT for Sindh Teaching Interns Program (STIP)
No. SO (G-I) SE&LD/DSC/20 22: Consequent upon the Honourable High Court's directives in Suit 1243/15, dt:27/9/2021 and approval of a proposal for "Sindh Teaching Interns Program (STIP)", from Sindh Cabinet during its meeting held on dt:30/12/2021, "District Selection Committee for the Interns (DSCI)", is hereby constituted for each district for the selection of Interns with the following Composition and ToRs:
District Education Officer (ES&HS) of the concerned district. Chairperson
Chief Monitoring Officer, of the concerned District. Member
District Coordinator, Local Support Unit-RSU(Concerned District) Secretary/member
Subject Expert (Professor/Associate Professor of the Concerned Subjects) Co-Opt Member
to be nominated by the chairperson.
For You: Hiring of School Leaders on Contract Basis KPK
Terms of Reference District Selection Committee for the Interns (DSCI
To collect, Scrutinize and process the applications received from the applicants for Internship responding to the advertisement.
To conduct interviews of eligible applicants.
Observe "terms and conditions" notified in the advertisement/ by the department, and prepare a subject-wise merit list of recommended/selected applications for the internship.
To forward the recommendations of selection/placement to Secretary, Education for approval.
Observe transparency and merit during the whole process of selection and keep the record of its work intact.
To respond to appeals/complaints and any kind of litigation at any forum/court of law.
You may also like: Salary of Regular Appointed Employee in 2021-22 Sindh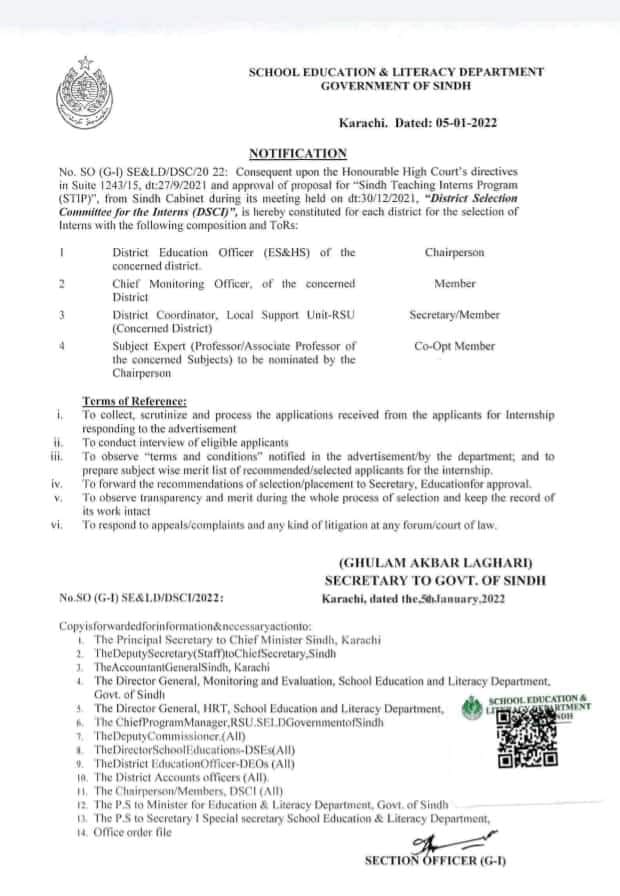 Advertisement of STIs Jobs 2022 Sindh
School Education and Literacy Department Sindh has also issued the advertisement for STIs in Sindh on 09-01-2022.  These teachers will teach the students of classes XI and XII. The main features of this ad are as under:
Minimum Qualification
Postgraduate; at least 2nd division/equivalent from any HEC recognized University in following subjects only:
Physics
Islamiyat
Pakistan Studies
Urdu
Sindhi
English
Zoology
Botany
Chemistry
Mathematics
Stipend/Internship Allowance and Age Limit
An amount of Rs. 60,000/- sixty thousand per month is admissible subject to satisfactory service. The maximum age limit for these teachers' jobs in Sindh is 43 years.