Last Updated on July 31, 2022 by Galaxy World
Government of Khyber Pakhtunkhawa, Finance Department issued a Notification on 21-07-2022 in connection with Clarification Regarding 15% Pension Increase 2022 KPK. The details are as under:
Clarification Regarding 15% Pension Increase 2022 KPK
I am directed to refer to the subject cited above. In continuation of this Department Notification No. FDSO(SR-II)/2-4/2022/pension dated 14.07.2022/Pension dated 14.07.2022 and in consonance with the Finance Division, Government of Pakistan Office Memorandum No. F. 4(1)-Reg, 6/2022-486 dated 01.07.2022 and Finance Department, Government of Sindh Office Memorandum No. FD(SR-II)3-230/2022 dated 13.07.2022, the clarification regarding previously merged Adhoc increases of 2011, 2015, 2016, 2017, 2018, 2019, and 2021 is as under:-
(i). the aforementioned Adhoc increases have been merged into basic pay. Hence, the said increases will cease to exist or be discontinued for all those employees retiring on or after 1st July 2022.
(ii). All other clauses and conditions of the notification ibid will remain the same as mentioned.
What is New In this Letter?
In the previous Notification Pension Increase 2022 KPK, there was no mention of ceasing to exist the pension increases during previous various years. If we don't exist those increases then the pension for the pensioner retired on or after 1st July 2022 will nearly double. That the Government cannot bear this stage of financial issues in Pakistan. Federal Government, Sindh Govt, AJK, GB, and Punjab governments have already existed these increases. So the net pension is nearly the same as it would be before 1st July 2022.  The ceasing to exist is the following increases:
2011 Increase
2015 Increase
2016 Increase
2017 Increase
2018 Increase
2019 Increase
2021 Increase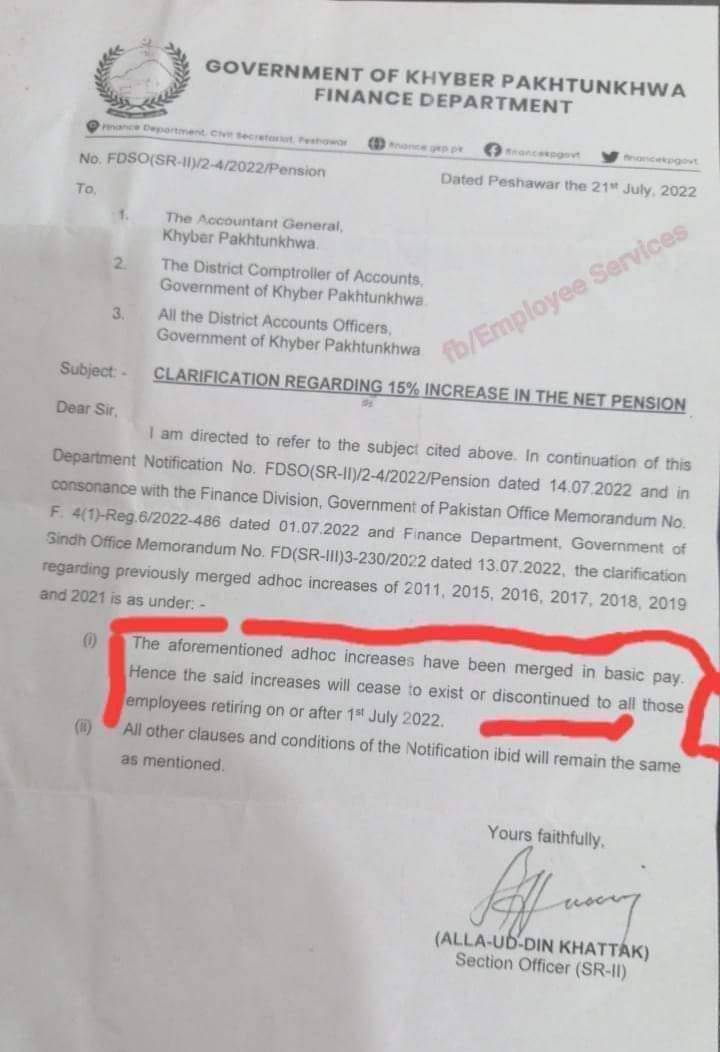 The pensioners who retired on or after 1st July 2022 will get less pension after the issuance of this letter. However, they will get more commute or gratuity. If they have in one-way loss then they have benefits too on the other way. So the pensioners enjoy more benefits of commute/gratuity.