Last Updated on January 7, 2023 by Galaxy World
The announcement of AIOU Admission Semester Spring 2023 for Matric. Inter, Ph.D., MPhil, MS, BS and BS Programs
has been issued by Allama Iqbal Open University Islamabad. The details are as under:
AIOU Admission Semester Spring 2023 for Matric and Intermediate, Mphil, PhD, BS, MS
Allama Iqbal Open University Islamabad opens admissions for SSC,  HSSC, and programs. The admissions shall start on 15th January 2023 and the closing date is 21st February 2023.
AIOU Admissions for Levels/Classes
The admissions are open in the following categories:-
Matric (SSC)
Matric (General)

Dars-e-Nizami

Matric open course

Intermediate
FA (General)

I.Com

FA Dars-e-Nizami

FA Open Courses

ALP-Middle Tech
ALP Middle Tech  for uneducated young and Children
Certificate Courses
Arabic Teachers Training Course (ATTC)

Certificate "Imam & Khateeb"

Virtual Assistant (Wholesale)

Virtual Tracker-Alibaba

Facebook Executive Marketing

Virtual Assistant (Private Label)- Amazon

Virtual Store Manager Daraz

Shopify Drop Shipping

 
Financial Assistance:-
Financial assistance shall be granted to the eligible students for payment of fees. AIOU Provides free education to prisoners of Jail, and transgender and disabled students.
Online Admission Forms:-
The online Admission forms are available on the website of AIOU. The students who want to apply for admission can submit an online Admission form.
For more information About it, Overseas Pakistanis can contact at:-
Email:- [email protected]
Phone:- +92 51 9057 165, +92 51 9250 175
For Overseas Pakistanis:-
As per University policy, now the Overseas  Pakistanis from all over the world can get an Education from AIOU. They can take admissions in the above-mentioned programs and get an Education. This facility is based on an online Management System.  For this, the students have to submit online assignments and give online examinations.
Prospectus:-
The prospectus is available at sale points and on the campus of the University. The details of sale points are available. The prospectus fee is Rs. 100/-.
Submit Online Admission Forms:-
Students have to submit online Admission forms for taking admission to any program/course.
For enrolment visit https://enrollment.aiou.edu.pk
Fee Challan has to be submitted in any branch of FWB, UBL, MCB, and ABL or Easypaisa, JazzCash, and Upaisa.
Note:-
The admissions in  Teachers Training Programmes, BA (Associate Degree), and BS (ODL Mode) programs shall start from 1st March 2023.
There is another piece of news for the students the Punjab Government announced for no winter holidays extension till 15th Jan 2023 by SED. The schools will open on 9th January 2023.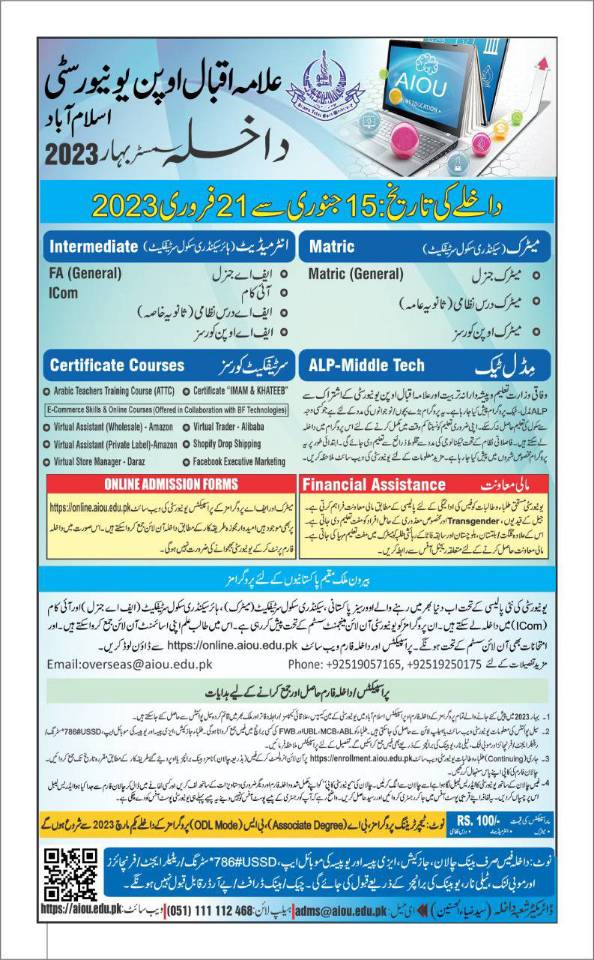 AIOU Ph.D., MPhil, MS, and BS Programs 2023 at Main Campus
Admissions are open at Allama Iqbal Open University,  Islamabad for different programs at bachelor and above levels.  The admissions are open for Spring Semester 2023.
Admissions open in AIOU
Admissions are open at Allama Iqbal Open University,  Islamabad. These admissions are available for Spring Semester. The Students who want to take admitted in AIOU can apply before the last date.
Programs
Admissions are open in the following programs in AIOU:-
PhD
BS (4 years)
BS (2.5 Years)
Phil/MS
Post Graduate Diploma
Subcategories of the above-mentioned programs:-
PhD
Education

Arabic

Shariah

Qur'an and Tafseer

Library and Information Sciences

Pakistan Studies

Mathematics

Statistics

Physics

BS 4 years
Agricultural Technology

Biochemistry

Chemistry

Mathematics

Physics

Botany

Environmental Sciences

Microbiology

Statistics

BS 2.5 Years
Chemistry

Mathematics

Physics

MPhil /MS Programmes
MPhil Education

M. Phil Electrical Leadership and Management

MPHIL Arabic

MS Shariah

MPhil Mass Communication

MPhil Pakistani Language and Literature

MS Commission

MPhil Urdu

MPhil Agricultural Technology

MS History

MPhil Physics

MPhil Economics

MS Computer Science

MPhil Quran and Tafseer

M. Phil Iqbal Studies

Post Graduate Diploma
·         PGD Computer Science
Admission Schedule
The admissions are open from 15th January 2023 to  15th February 2023 for MPhil/Ph.D.
The admissions for the Teacher's Training Program,  Associate Degree (BA), and BS (ODL, Mode) will start from 1st March 2023.
Test/Interview
For admission to Ph.D., MS, and MPhil, there will be a test/interview. The schedule for the test/interview is here:
| | | |
| --- | --- | --- |
| Date of Test | Time | Venue |
| 17th to 24th February 2023 | 09:00 AM to Onward | Academic Complex, AIOU, Islamabad |
Displaying Merit List:-
The first and second merit lists will be displayed on the University website as per the following schedule. The last date for submission of the fee is also mentioned.
| | | |
| --- | --- | --- |
| List | Date of display | Last date for submitting the Fee |
| 1st Merit List | 25th February 2023 | 1st March 2023 |
| 2nd Merit List | 2nd March 2023 | 6th March 2023 |
Admission process:-
Prospectus of All programs are available at https://aiou.edu.pk/Prospectus
Submit online applications at http://fmbp.aiou.edu.pk
The fee should be deposited in any branch of ABL, MCB, FWBL, and UBL. It can also be deposited through Upaisa, JazzCash, and Easypaisa.
You may also like: Grant of M.Phil Allowance MS / MPhil Degree Holders