Last Updated on January 8, 2023 by Galaxy World
Education Minister Punjab Mr. Muraad Raas has clearly denied the extension in vacations and there will be No Holidays Extension till 15th January 2023. The schools in Punjab will re-open on 9th January 2023.
No Holidays Extension till 15th January 2023 – Statement of Education Minister Punjab
Why do parents/teachers/students want more winter holidays? We used to go to school in the same weather and never complained. What is wrong with this generation – no one wants to do anything! Especially study.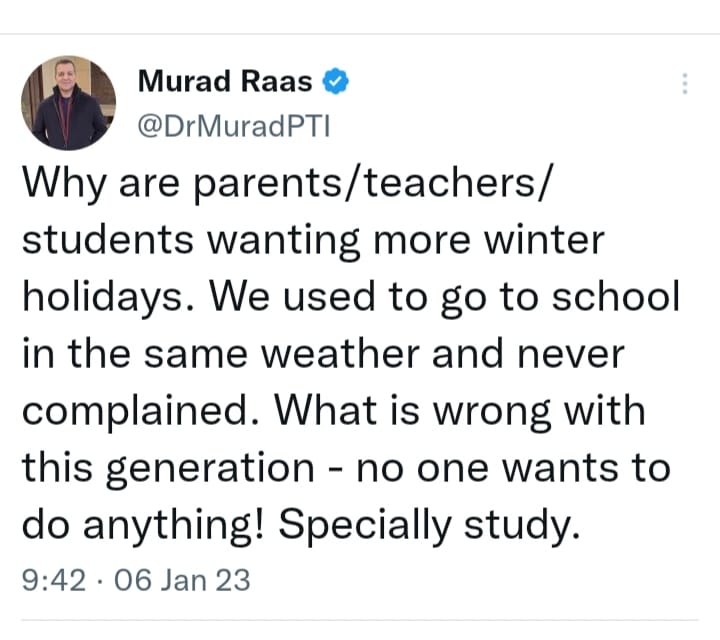 Schools are To reopen as per the previous schedule
The Department of School Education says that the schools shall open as per the previous schedule. The winter vacation shall end on 9th January.  The winter vacations shall not be extended anymore.
The schools shall reopen from Monday. The winter vacations were to be ended on 1st January 20123. And schools were to be opened from 2nd January 2023. But the Government allowed an extension for Winter Holidays. So these winter holidays shall end on 8th January 2023. The schools shall reopen from Monday,  9th January 2023.  This decision was made on account of severe cold and foggy weather.
School Education Department  notification
As the extension in these holidays was expected once again. The schools were expected to be opened on 16th January 2023. But Department Punjab informs that schools shall reopen from 9th January 2023. According to School Education Department Punjab, an extension in winter vacations is not acceptable as it will affect studies. In this regard, the School Education Department may issue a proper notification.
Previous Winter Vacation 2023-23
Before this School Education Department notified winter holidays for one week 26th December 2022 to 1st January 2023. Later on, keeping in view the bad weather condition, a Notification of Winter Holidays Extension in Punjab SED was issued. Punjab Government extended winter holidays till 8th January 2023. After that Government of the Punjab SED did not grant an extension for the winter holidays of 2022-2023. During these winter holidays, many private educational institutions allowed their students to come to schools/colleges. They just want to complete the courses of the students but the Government of Punjab announced to take action against educational institutions that were not following the orders. But now the Government of the Punjab School Education Department finally decided to open all private and Government schools/colleges.
Proposals for Extension Vacation
As per sources, there were the following three proposals for the winter holidays extension:
1- All Educational institutions closing till 15-01-2023
2- Closing primary Schools till 15-01-2023
3- Reduction in School Timings
The Education Minister Punjab rejected all the above proposals and announced to open schools on 09-01-2023