Last Updated on January 8, 2023 by Galaxy World
There is a Fake Notification of the Extension of Winter Vacations Federal Educational Institutions Islamabad on social media. Ministry of Education and Professional Training Islamabad has clarified.  According to the fake notification, it was claimed that the Educational Institutions (Schools and Colleges) will remain closed till 15th January 2023. It was wrongly claimed that the Schools/Colleges will open on 16th January 2023.
Fake Notification of Extension Winter Vacations Federal Educational Institutions Islamabad
The Ministry clarifies that they have not made any decision to extend further the winter holidays in Capital Territory. The Notification circulating on social media is "FAKE". The students, teachers, and parents should not give any attention. All should stay away from such type of disinformation.
All the information spread on social media regarding the extension of a winter vacation is wrong and false.  Punjab Government has already clarified that there will be no more extensions in winter holidays till 15-01-2023. Schools / Colleges in Punjab are also opening on 09th January 2023. Before this in Punjab there were the following proposals that the Education Minister of Punjab Mr. Murad Raas Rejected:
Extension winter holidays till 15th January 2023 or
Closing of Educational Institutions on a primary level only till 15-01-2023
Change in the School Timings for students
Eventually, all proposals the Education were rejected and now educational institutions in Punjab will also open on 09-01-2023 (Monday).
Federal Government Educational Institutions will also open on Monday the 9th of January 2023 as per the latest updates. Students should now be ready for school/college and no more holidays.
Murad Raas Tweet
Murad Raas Tweeted on 8th Jan 2023 at 7;36 pm
"Schools are open tomorrow. All the rest are FAKE NEWS. Believe this. Welcome back."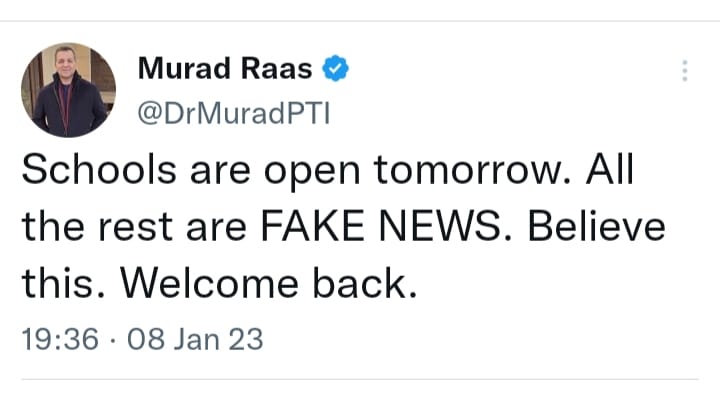 Federal Directorate of Education
The students studying in federal educational institutions of Islamabad are informed that from tomorrow, Monday, January 9, 2023, all educational institutions will open at full capacity after the winter vacation. All male and female students will attend their schools and colleges in full uniform.
Summary:
The summary of the discussion is as under:
"There is no extension in Winter Vacations 2022-23. Schools, Colleges, and Universities in Punjab and Federal will open on 09-01-223 and be ready for Studies at Educational Institutions."