Last Updated on December 30, 2022 by Galaxy World
Notification of Extension in Winter Vacations 2022-2023 in Punjab has been issued. Winter vacations already have started in around Punjab in all colleges. The winter vacations started on 24th December 2023 in Punjab and were supposed to be continued till 1st January. The colleges were to be opened on 2nd January 2023 Monday, as mentioned in previous notifications of the Higher Education Department, Government of Punjab. It was also notified by the Government of Punjab, that the winter vacations can be extended on the account of Weather Conditions.
Notification about Winter Holidays in Schools and Colleges
As the winter is showing its best, the weather is getting colder. The rain also increases the extremity of the weather. On the account of weather conditions around Punjab, the Higher Education Department of the Punjab Government releases a notification to extend the winter vacations. The winter vacations which were to be ended on 1st January 2023, shall now continue for some more days. Now the Higher Education Department grants extensions in Winter Vacations.
New Schedule of Winter Vacations in Punjab 2022-23

As per the schedule of winter vacations in all colleges of Punjab, as issued Higher Education Commission, the vacations are extended w.e.f 02-01-2023 to 08-01-2023.
All the Colleges (Public and private) shall reopen on Monday, 9th January 2023 resuming a full/normal week for all classes. All the extensions shall be held as per the schedule of Boards and Universities.
You may also like: Winter Vacation 28th Dec 2022 to 6th Jan 2023 NFEIs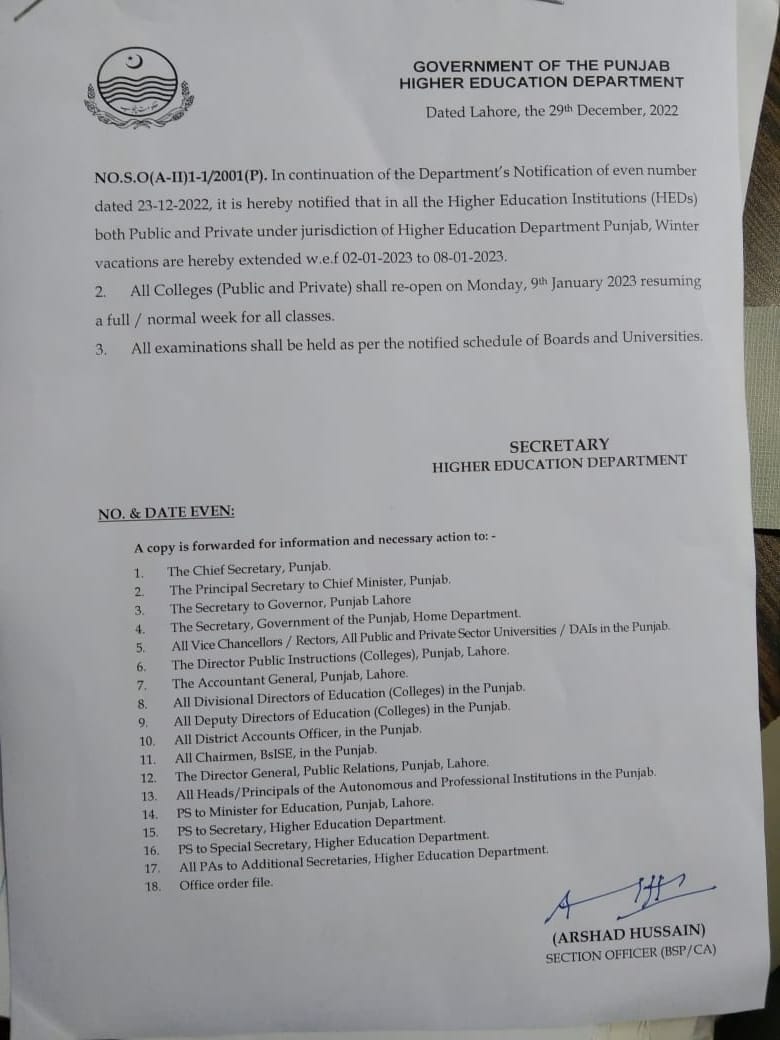 Now winter vacations shall continue to 8th of December 2023 in all schools and colleges of Punjab.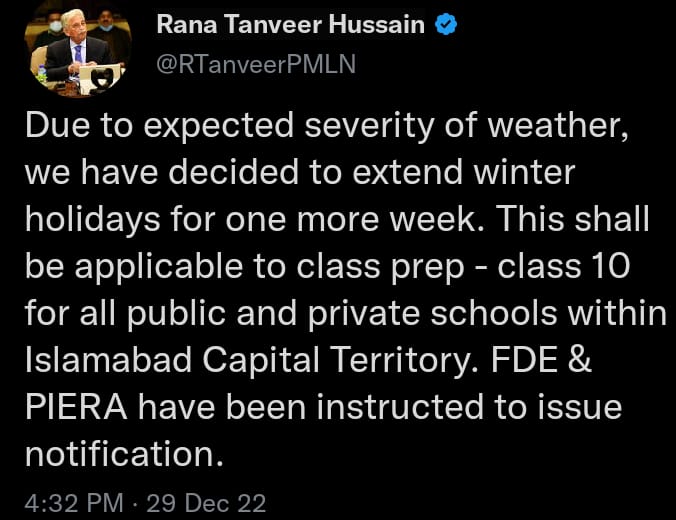 It is to inform the new schedule for the winter vacations in Punjab. The vacations in all Federal and Punjab Government schools as well as private schools have been extended. The other provinces will also issue their notification of extension winter vacation 2022-2023 soon. Still, Punjab and Federal Government issued the Notifications. 
BZU Multan Notification
In pursuance of Notification No. S.O.(A-II)I-I/2001(P) dated 29-12-2022 issued by Higher Education Department, the Vice Chancellor has extended Winter Vacation from 02nd January 2023. The University will re-open on 9th January 2023.
However, examinations shall be held as per notified schedule of the university and all Administrative Departments, the University Library, offices of the teaching departments, sub-campuses, centers institutes, and constituent colleges will remain open during the period.