Last Updated on December 30, 2022 by Galaxy World
Punjab Government has announced to take Action against Educational Institutions not Observing Winter Holidays /Vacations 2022-23.  The schools/colleges who will not follow the orders will have to pay fines as well as show cause notices.
Action against Educational Institutions not observing Winter Holidays 2022-23
Lahore High Court issues the instructions regarding Winter vacations. The authorities informed that in pursuance of the directions that the Hon'ble Lahore High Court Lahore issued on 27th December 2022 in Court Petition No. 227807/2018, Department of Education Punjab Notification No. (1-NO.SO (A-1) 1- 31/2008 (P dated December 29, 2022) winter vacation in all public and private schools of Punjab province has been extended from 02.01.2023 to 08.01.2023. All schools (public and private) will open on Monday, January 9 In 2023.
Instructions to Follow
The following instructions are issued to the concerned:
If public or private educational institutions they found guilty of violating the winter vacation extension schedule, The department will take disciplinary action against them.
All education officers across the district shall make sudden raids in their centers on educational institutions to take action against the institutions violating the Winter Vacation Extension schedule.
In this regard, various raiding teams the department has formed at the district, tehsil, and center levels.
The authorities will issue Show Cause notices to such educational institutions.
You may also like: New Orders of Winter Vacation KPK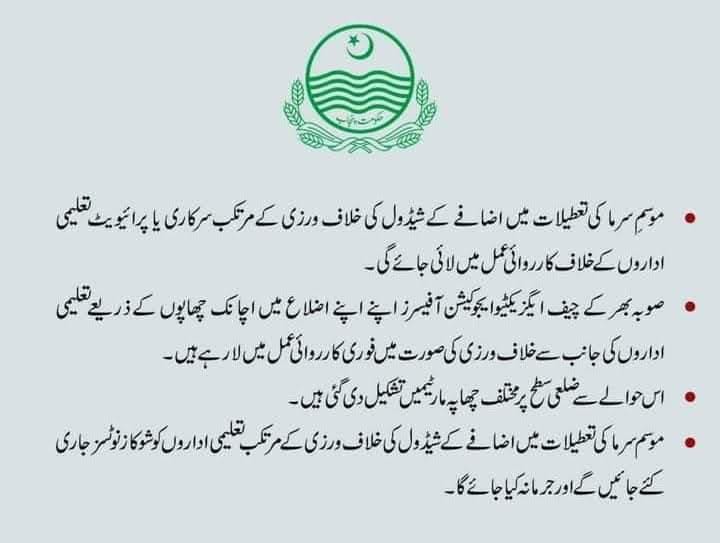 CEO (DEA) Gujrat Orders
CEO (DEA) Gujrat also issued Orders on 30-12-2022 to refrain the schools, especially the private schools to open the schools during winter vacations 2022-2023.
Previously Government announced winter vacations till 1st January 2023 but due to severe weather conditions in the country, the Government decided for extension in the winter holidays 2022-23 for one week more. Now Punjab and Federal Government have issued Notifications for extensions in winter vacations. Still, other provinces did not issue the Notifications. As soon as I get the notifications for these provinces I ll upload here the information of employees, students, and parents.