As per the tweet of Mr. Shahram Khan Tarakai, due to bad weather conditions. The Education Department Khyber Pakhtunkhawa issued New Orders of Winter Vacation 2022-23 in KPK Education Department. According to the new announcement, the educational institutions in KP will remain closed in the summer zone with effect from 25th December 2022 to 1st January 2023.
New Orders of Winter Vacation 2022-23 in KPK Educational Institutions
According to the new orders, the schools in Khyber Pakhtunkhawa province will remain closed immediately. These orders are for warm areas and cold areas i.e summer zone and winter zone.
What Sharam Khan Tarakai says About Winter Holidays?
The statement of Shahram Khan Tarakai is as under:
"Due to the forecast of unusual cold waves and sudden change in weather, it has been decided that schools in the summer zone will remain closed from tomorrow 25th Dec to Sunday 1st Jan 2023. While schools in the winter zone will remain closed from tomorrow Dec 25 to Feb 15, 2023."
Now it is a good decision for the Education Department KPk, as the weather is becoming so cold, especially in hilly areas. In warm areas, the weather condition is not so good. So the Government of KPK did a good decision and well in time decision.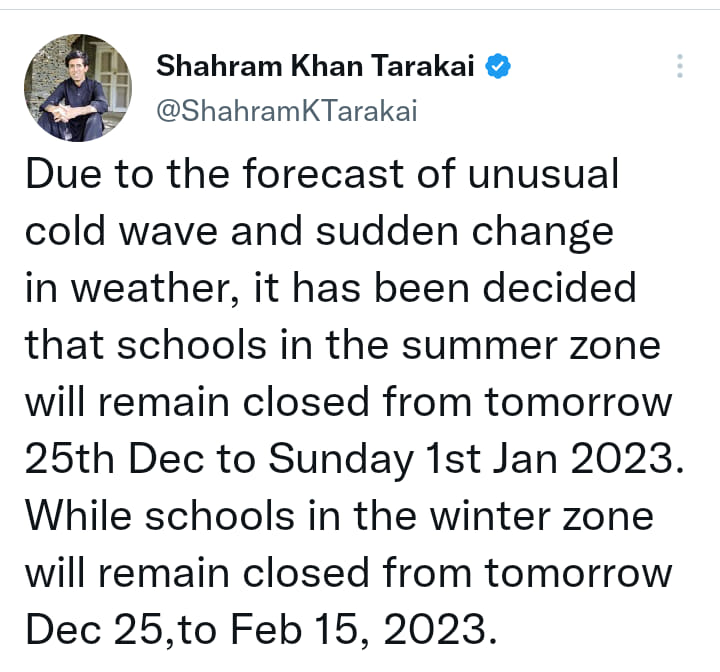 Previous Notification
According to the previous orders, a Notification of Waiving Off Winter vacation 2022 in KPK was issued. Later further orders the KPK Government issued and decided to announce the holidays as per the concerned DC of the district keeping in view the weather conditions.
Previous Notification of 23-12-2022
The Sections Officer of the KPK Education Department writes to the Deputy commissioners for informing about the latest released notification of the educational Department KPK.
The Education Department of Khyber Pakhtunkhwa informs the deputy commissioners that they can close some of the schools if it is essential on account of weather conditions.
If weather conditions change unusually, and if requires the schools can also be closed before 1st January 2023.
Before this, the government of KPK,  Education Department has decided to close the school from 1st January 2023 in the Winter Zone of KPK.
Districts Included as per Notification:
The said Notification includes the following Districts:-
Upper Chitral
Lower Chitral
Dir Upper
Batagram
Shangla
Swat
Mansehra
Orakzai
Kurrum upper
North & South Waziristan
You may also like: Notification Grant of Qualification Allowance South Punjab