Last Updated on December 14, 2022 by Galaxy World
Government of the Punjab, School Education Department issued a Notification on 14-12-2022 in connection with Winter Vacation 2022 Punjab School Education Department. The details are as under:
Winter Vacation 2022 Punjab School Education Department
According to the Notification, all schools in Punjab will remain closed with effect from 24th December 2022 to 31st December 2022. All these schools (Regular & Private) in Punjab will remain closed due to winter vacations 2022.
Before this Federal Government and Sindh Government notified for winter holidays 2022. In this way, I shared the Notification Winter Holidays 2022 Sindh schools and also for Federal educational institutions in Islamabad.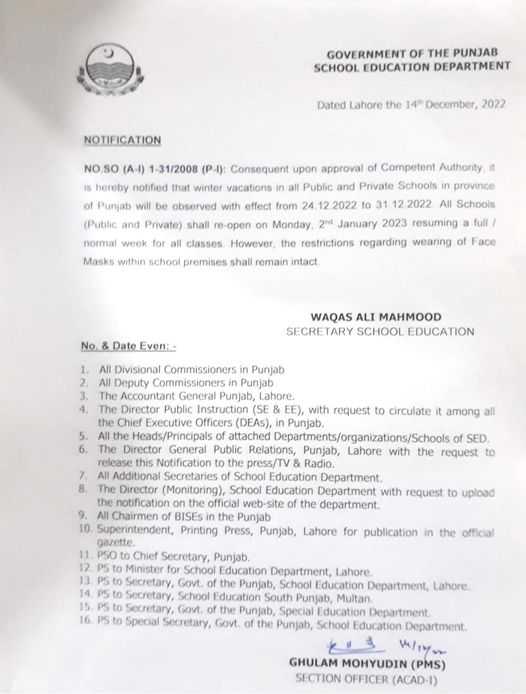 Winter Vacations Around the Country
The winter vacation around the country is starting. The fall in temperature due to winter is causing many diseases.  To avoid infectious diseases and take a break from all educational tasks, winter vacations are very important. The authorities of Different provinces of Pakistan released the schedule for winter vacations. School Education and Literacy Department  Sindh Government and Federal Government have also issued schedules for winter vacations. The vacations in Sindh shall start on 22nd December 2022 and end on 31st December 2022.
According to the schedule of Vacations for the Federal Government,  the winter vacations shall start on 26th December 2022. All educational activities in educational institutes shall resume on 2nd January 2023. The competent authorities have strictly asked those personalities to not leave the station in any case, if they are assigned any task or responsibility.  They have to fulfill the duties/tasks assigned to them during these Winter Vacations.
For You: Grant of M.Phil/PhD Allowance KPK
Punjab Government School Education Department Decision
After the announcement of Winter Vacations from other governments, the government of Punjab also makes decisions regarding winter vacations.  The section officer of The School Education Department,  Punjab issues the notification regarding the schedule of Winter Vacations. The vacations of winter shall fall in the last week of December 2022.  The winter vacations in all educational institutes shall start on 24th December 2022. The educational institutes shall reopen on  2nd January 2023.
The authorities keep the restrictions regarding wearing masks after the winter vacations.  The students,  teachers, and all other concerned personalities shall have to wear face masks as usual. The main reason behind this restriction is to avoid COVID-19. As COVID-19 attacks the respiratory system, which is fatal in winter, the authorities show responsibility to keep everyone safe from such a fatal disease.
Ghulam Mohiuddin (PMS) Section Officer, informs regarding the restrictions in the notification.   It has been sent to all concerned authorities like all Divisional Commissioners, all Deputy Commissioners in Punjab, the accountant General Punjab, and The director of Public Instructions.