Last Updated on February 28, 2023 by Galaxy World
Office of the Accountant General Pakistan Revenues Islamabad issued a circular on 27-02-2023 in connection with the Option to Avail One Time Dispensation Upgradation Federal Employees. The details are as under:
Choice / Option to Avail One Time Dispensation Upgradation Federal Govt Employees
The Office of the Accountant General Pakistan Revenues issues a circular dated 27-02-2023. in which,  the Revenue Department allows an option for special dispensation to servants. This special dispensation is for Federal Government Civil Servants. Here are details of the circular.
Grant of Higher Scale for Civil Servants of FG
The Federal Government of Pakistan grants special dispensation to the civil servants of AGPR. The special dispensation is under the Time Scale Policy-2022.  The employees can get benefits of subject dispensation. They can also reject this dispensation within a limited time.
Employees who can avail of Special Dispensation
This special dispensation by  Federal Government is for Civil Servants from BS-01 to BS-16. It is not for the candidates above BS-16. So, civil servants up to BS-16 can avail of this special dispensation.
Considering Grant of Higher Time Scale as Lapsed
According to O.M. "One Chance of grant of Higher Time Scale, admissible under Time Scale Policy-2022,  shall be considered as lapsed in respect of employees who avail benefit under this Dispensation." Hence,  in case employees from scale BS-01 to BS-16 avail of the Benefits of this scheme,  their one chance of a higher Time Scale will be considered lapsed. They shall not get the benefit of a Higher Time Scale for one time, in this case.
Rejection of Special Dispensation by Employees
As you know, The civil servants of the Federal Government from  BS-01 to BS-16  are getting special dispensation. The employees who don't want to avail benefits of Special Dispensation can reject it. They can express their option by writing to Admin-II Wing. They have to express their option within 05 working days of issuance of this advertisement. The authorities shall proceed with their motioned option for further action.
Note: If employees do not mention the option for not getting benefits, it will be presumed that employees want to avail of benefits under this scheme.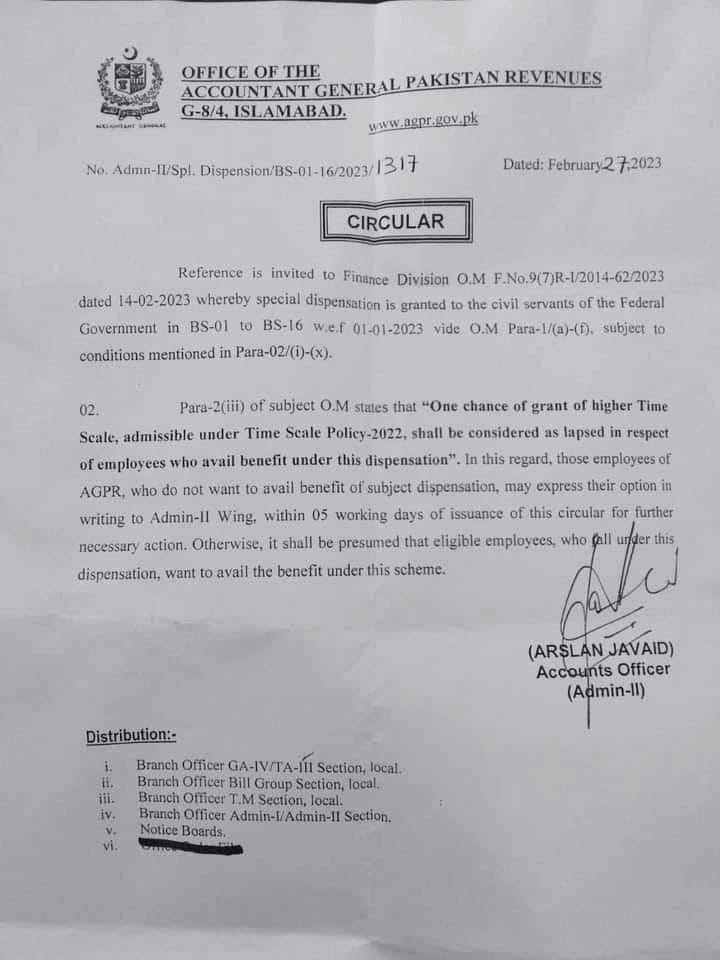 Various Offices have started issuing by-name notifications of upgradation and time scales. Now the employees who have got their by-name orders of upgradation/higher pay scales can get their pay fixation from their concerned accounts offices.