Last Updated on May 26, 2023 by Galaxy World
Government of Khyber Pakhtunkhwa, Elementary & Secondary Education Department issued an order on 26-05-2023 in connection with Notification Summer Holidays 2023 KPK. These summer vacations in 2023 in KPK Schools are for the summer zone and winter zone. The details are as under:
School Education Department Notification Summer Holidays 2023 KPK
Government of KPK School Education Department announces the schedule of summer vacations 2023. The summer vacations will start on 1st June 2023 for primary schools and wef 15th June 2023 for other schools. The Government of KPK issues this notification for all public and private schools. All the competent authorities must ensure that public and private schools must follow the summer vacation schedule of the government.
KPK School Education Department Summer Vacation 2023
After Punjab and Sindh School Education Department KPK finally announces the summer vacation schedule for the year 2023. The respective competent authorities finalize the summer vacation holidays in the latest meeting.  After finalizing the decision, they issue a notification regarding summer vacation holidays in the KPK province. The public and private schools must follow this schedule.
I had already shared the news of Summer vacation 2023 in KPK which is exactly the same as I earlier shared. Some people mentioned in the comment that it was wrong news but the Notification prooved that it is exactly the same.
Schedule of Summer Vacations Holidays 2023 in KPK
Start of Summer Vacations 2033
End of Summer Vacations 2023
The school will reopen on
Primary Schools: 1st June 223

Other Schools: 15th June 2023

31st Aug 2023
1st September 2023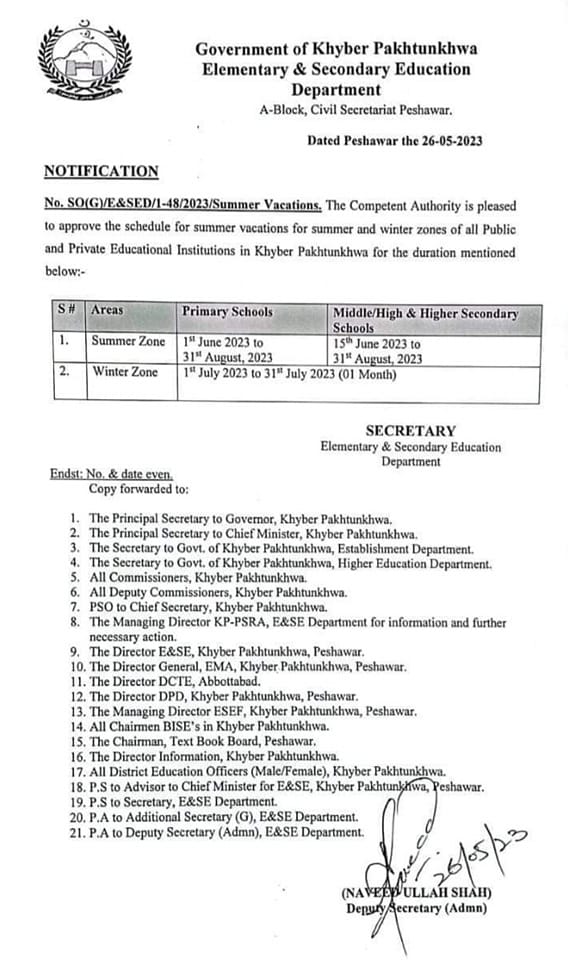 No Instructional and Educational Activities During Summer Vacations
As per School Education Department KPK, notification of summer vacation holidays is for all public and private schools.  All the schools remain closed during summer vacation.  There will be no educational and instructional During the summer vacation holidays.
Government Strict Action Against Failure to Cooperate
As per the announcement, only administrative staff will Perform their duties according to their summer vacation schedule. Instructional staff and the students will not come to school for any educational activity. If any single public or private school fails to cooperate with the decision of the government. The competent authorities will take strict action against that institution.
Summer Vacation Assignments
All the public and private school teachers will give proper summer vacation homework to the students. Some of the teachers gave summer vacation homework in the form of a booklet.  The booklet is composed of many worksheets and activities related to their learning and grade. Respective teachers of each subject and class are also responsible to check the summer vacation homework.  They must collect the summer vacation assignments from the students after reopening the school.