Last Updated on August 17, 2023 by Galaxy World
There are available Joint Hospital Awaran Vacancies 2023 for All Over Pakistan Candidates. There are some new vacancies available in Joint Hospital Awaran. It is a public sector hospital providing health care facilities. The hospital needs experienced and competent candidates for filling vacant posts. The candidates interested to apply can submit their applications:
The Latest Joint Hospital Awaran Vacancies 2023
Joint Hospital Awaran (JHA) invited applications for filling some of the available posts.  The posts in different positions are Available. The appointment will be purely on a contract basis. Candidates from all over Pakistan can apply.  The details of the posts are as follows :
Sr.No
Position
No of Post
Monthly Salary (Rs)
Qualification
1.
Medical Officer (Male)
1
Max:250,000
MBBS registration with PMDC, 2-3 Years

Experience will be preferred

2.
Medical Officer (Female)
1
Max:250,000
MBBS registration with PMDC, 2-3 Years

Experience will be preferred

3.
Bio Medical Technician
1
Max:60,000
Certification, 2-3 Years experience
4.
Cock
1
Max:35,000
Relevant Experience
Last Date To Apply
Candidates can send their applications by 24th August 2023.  Late applications shall not be accepted.
How to Apply
Candidates can email their applications in PDF format to the following email address:
They can also WhatsApp their application on the following number :
0331-5552391
The candidates must send their documents and CV along with the Application.
Instructions for Candidates
Candidates who are added working under the government must provide NOC.
The interview will be conducted at DHQ. On 26th August 2023.
Applicants who want to give online interviews,  have to contact through WhatsApp/zoom before conducting of interview.  Cell phone# 0331-5552391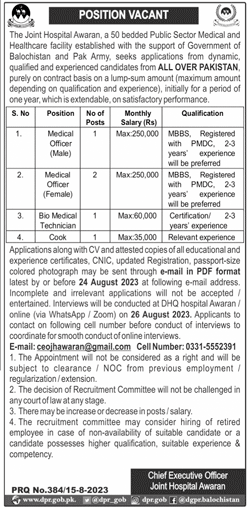 You may also like: District & Session Court Nowshero Feroz Jobs 2023