There are golden chances for the candidates especially for the females as there is the recent announcement of First Women Bank Limited (FWBL) Vacancies Oct 2023. The First Women's Bank (FWB) presents career opportunities for dynamic and skilled professionals.  Candidates with specialization in the market and banking system or economic field can take advantage of the opportunity. The post's location is the Head Office of FWB and its branches are located in other Cities of Pakistan. You can read details about the FWB Jobs here:-
First Women Bank Limited (FWBL) Vacancies Oct 2023
First Women Bank Limited (FWBL) announces job opportunities. It requires new staff for its Head office and other branches. Experienced and  Career Oriented individuals preferably Women, can apply. Candidates belonging to any area of Pakistan can apply. The details of Posts available in FWB are as follows.
Summary of Jobs in FWBL 2023
Name of Post
Location
Head- General Services Division (GSD)
Head Office-Karachi
Chief  Information Security Officer (CDO)
Head Office-Karachi
Unit Head-Policy & Governance
Head Office-Karachi
Data Base Administrator
Head Office-Karachi
Foreign Trade Officer (Operations)
Head Office-Karachi
Branch Manager
Pakistan
Branch  Operations Manager
Pakistan
Branch Operations Officer
Pakistan
Universal Teller
Pakistan
Operations Officer Support Staff
Pakistan
Security Operation Centre & Analyst

(SOC)

Head Office-Karachi
Operations Risk Analyst
Head Office-Karachi
Market Risk Analyst
Head Office-Karachi
Credit Risk Analyst
Head Office-Karachi
Manager Audit  Quality Assurance, Follow Up & Reporting
Head Office-Karachi
Senior Audit Officer/Manager-BBR

Business Risk Review

Head Office-Karachi
Senior Audit Officer,  Quality Assurance
Head Office-Karachi
Audit Officer,  follow up & reporting
Head Office-Karachi
You may also like: SPSC Vacancies Ad No. 08/2023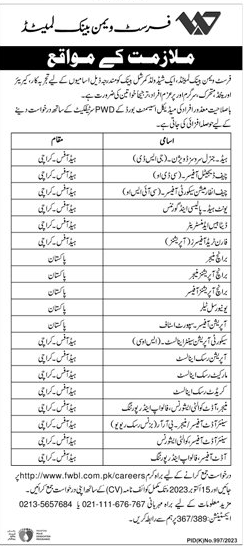 How to Apply for FWB Jobs?
Candidates interested in applying can submit their applications online till  15 October 2023. They can visit http://www.fwbl.com.pk/Careers to submit their applications. They need to submit copies of essential supporting documents and CV with the Application.