Last Updated on October 31, 2021 by ShumailaKamalBHP
Earlier I have published a Copy of the Sindh High Court, Sukkur Bench in connection with the Regularization of Sindh PSTs since their initial appointment. That was just a single page and the many employees of other provinces request me to share the full copy of the decision of the court for their information. I requested the visitors of the Galaxy World to share me the same copy if they have and Dr. Muhammad Akram Qazi, Agricultural Chemist, Soil and Water Testing Laboratory for Research tried hard to find the same and eventually he got the same copy through his personal efforts. This copy has been obtained from the court on 31-10-2013 that is why the date on this copy has been marked as the same.
The case of the petitioners is that they were appointed as Primary School Teachers (PST) on 06-11-2001 on contract basis. However they were regularized wef  01-10-2005. As their regularization was not given wef the date of their initial appointment in the year 2001, they have filed this petition seeking declaration that they be regularized from the date of their joining and should be given all consequential benefits.
Learned counsel for the petitioners has contented that services of seven other School Teachers placed in similar position to that of the petitioners have been regularized from the date of initial appointment. In support of his contention, counsel for the petitioners has relied upon a letter dated 11-05-2009 issued by the EDO (Education) Shaheed Banezair Abad.
The summary of the decision is that the High Court of Sindh Bench at Sukkur has given its decision in favour of these petitioners and ordered to regularize the Sindh Govt Schools' PSTs since their initial appointment.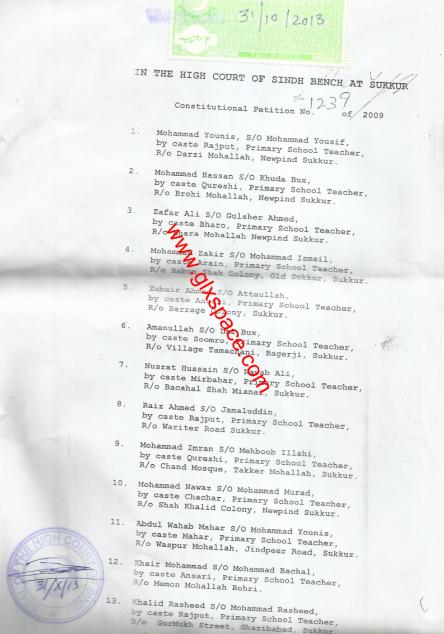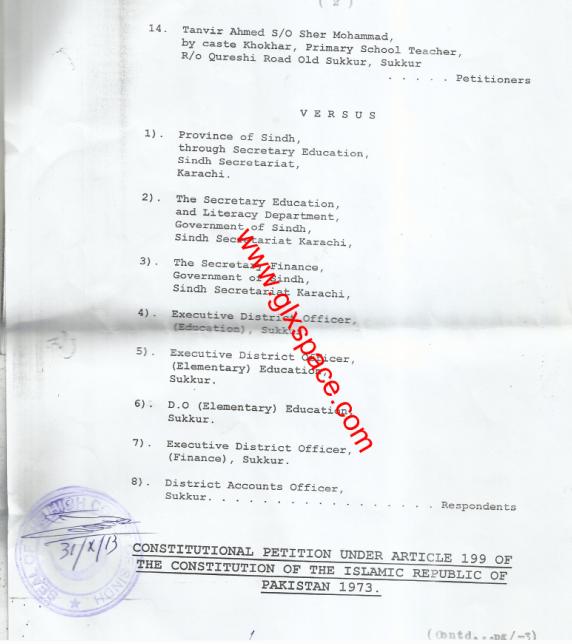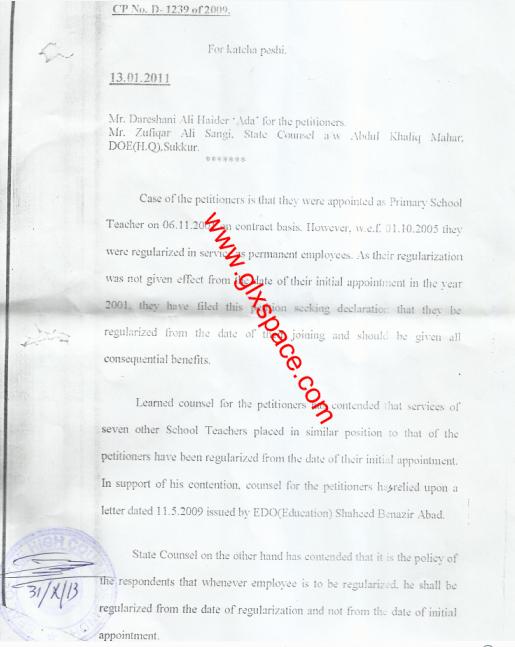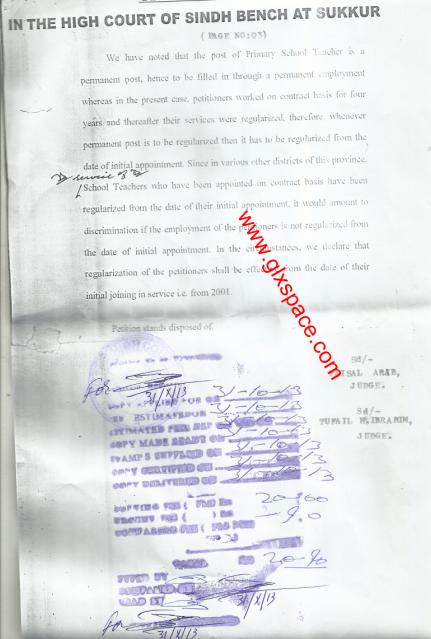 The Notification of their Time Scale was also issued on 21-11-2012.