Last Updated on October 31, 2021 by ShumailaKamalBHP
U.O No. FD.SR-II-9-82/2005 dated 17th January 2014 has been issued by the Govt of Punjab Finance Department in connection with Revised Pay Structure of Staff of the Directorate of Staff Development Punjab. This includes teaching and non teaching staff.
In continuation letter No. FD.SR-II-9-82/2005 dated 06-07-2005 and Education Department Notification No. US(TRG)2-6/2004 dated 15-07-2005.the Competent Authority i.e Chief Minister Punjab has now been pleased to revise the following pay structure/allowances for the staff posted or to be posted in future in the Directorate of Staff Develpoment Punjab, Wahdat Colony Lahore wef 01-01-2014.
| | | |
| --- | --- | --- |
| Sr No. | Category | Pay Structure Approved |
| 1 | District Teacher Educator (DTE) | Usual Pay & Allowances in the relevant Pay Scale plus Rs. 9000/- as DTE Allowance |
| 2 | Teacher Educator | a-      The Pay may be converted from lump sum pay package to usual pay & allowances of BS-17 plus 30% Social Security Allowance.b-      For public sector teachers, regular pay & allowances in their respective pay scales plus 1/3rd of basic pay as drawn on 30-06-2011 of their respective pay scales. |
| 3 | DSD Staff (Officials/Officers) | Special Allowance equal to one month basic pay per month at the frozen level of their respective pays as drawn on 30-06-2011 in lieu of half basic pay per month already allowed vide Notification No. US(TRG)2-6/2004 dated 15-07-2005. |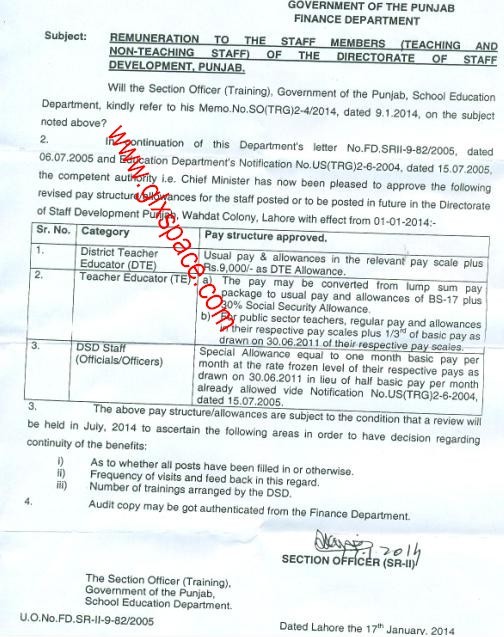 The above pay structure/allowances are subject to the condition that a review will be held in July 2014 to ascertain the following areas in order to have decision regarding continuity of benefits:
i-                    As to whether all posts have been filled in or otherwise.
ii-                   Frequency of visits and feed back in this regard.
iii-                 Number of trainings arranged by the DSD.
This post has been delivered by Mr. SARFRAZ HUSSAIN DTE(SCIENCE)
CTSC_25:G.H.S.S.  123/6-R(Haroonabad), District Bahawal Nagar.